Posted by Jeff Borzello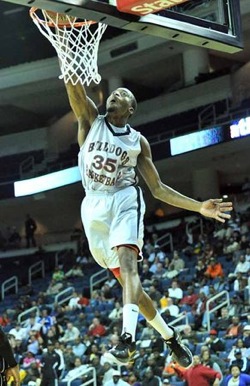 Please, end this already.
In yet another addition to a whirlwind couple of weeks for Kevin Ware, the top-100 recruit decommitted Thursday night from Central Florida.
"There's a lot of stuff going on right now, personal stuff that I don't really want to speak about right now," Ware told the Atlanta Journal-Constitution. "I spoke with my family about everything, and I decided it was time to back off on UCF."
Originally signed to Tennessee, the 6-foot-4 shooting guard was released from his letter of intent after Bruce Pearl was fired in late March – after some drama, of course. Last week, Ware ended his recruitment by committing to Central Florida – after meeting with Louisville head coach Rick Pitino the day before.
Then, Ware was scheduled to play in the Derby Festival in Kentucky. He told CBSSports.com he would not participate in it because of the backlash he would receive from Louisville fans at the game. Reports began to surface shortly thereafter that Ware was wavering on his commitment to UCF and would play in the Festival. Rumors swirled that he was asked to list his college choice as "undecided" at the game. Making matters worse, Ware refused to talk to media during the days leading up to the game.
Following the game, Ware said he was still committed to UCF and never wavered in that thought. As recently as Wednesday, Ware was still planning to play for the Knights in the fall.
Then everything changed . . . but we're not sure why.
"I talked it over with my family, and there's a lot of personal stuff that I need to get figured out before I decide on any school that I want to go to," Ware told the AJC. "I'm just tired from everything. Once I get my final grades in and know what schools are recruiting me, I will definitely have my choice made up then."
Ware told the paper that Louisville and Georgia were his favorites, but he has not spoken to either school since he committed to UCF.
Ware did not respond to a message from CBSSports.com seeking comment.
Photo: Atlanta Journal-Constitution