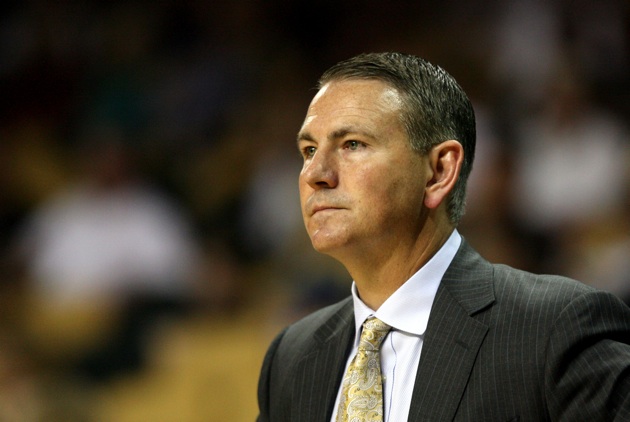 Posted by Jeff Borzello
Cenral Florida's recruiting prowess over the past year was no coincidence.
According to a report by Pete Thamel of the New York Times, UCF used a convicted felon with ties to a sports agency to help recruit marquee high schools players.
Kenneth Caldwell fits the profile of a runner perfectly. The Chicago native says on his LinkedIn profile that he is a recruiter of players for ASM Sports. Andy Miller, who runs the agency, denied the claim, while an associate of the agency told Thamel that Caldwell worked for them. Various comments by Caldwell on social networks also seemed to tie him to Justin Zanik, vice president of ASM Sports.
Pat Forde of ESPN.com was also on the story, and DePaul head Oliver Purnell told Forde that Caldwell and Brandon Bender – a former high school star who played at Louisville for a semester – tried to establish themselves as middlemen to Purnell when he arrived in the Big East.
"They are two of several guys who, when we got to Chicago, said, 'Hey if you need players we can help you,'" Purnell said.
The reports highlight the relationship between Caldwell and three UCF recruits: basketball players Kevin Ware and Michael Chandler, and football player DeMarcus Smith.
Ware has been the subject of many recruiting stories over the past couple of weeks due to his constant decommitting and recommitting. With Thamel's story, it now makes more sense.
Ware and his family told Thamel that Caldwell allowed Donnie Jones and the other UCF coaches to patch themselves in on conference calls, which is illegal contact and prohibited by the NCAA.
When Thamel informed Ware of Caldwell's background, he decommitted from the Knights.
"I'm pretty much just disgusted," Ware's mother, Lisa Mack, told Thamel. "Who dreams of something that's supposed to be about the kids and the achievements he's received to this point to receive a scholarship? It has been made something dirty. I feel violated."
Chandler was another player with a whirlwind recruitment. The Indianapolis big man committed to Louisville and Xavier before settling on UCF. Caldwell apparently has ties to Chandler, and the NCAA is currently investigating his recruitment to UCF.
Smith had a strange recruitment as well. He was originally committed to attend Louisville, but signed a letter of intent to attend UCF. His high school coach, Louis Dover, told the Times that Smith was harassed into signing his letter of intent to UCF.
"It's completely ridiculous," Dover said. "The whole situation is disgusting."
Six players from Caldwell's hometown of Chicago attend UCF, including three from Whitney Young. As Forde noted, Whitney Young coach Tyrone Slaughter is also the director of the Ferrari Youth Basketball AAU program, where Caldwell was an assistant coach at one point.
Caldwell considers current UCF player A.J. Rompza "almost a member of the family," and also has a son who attends UCF.
For his part, Jones denied that UCF has an associated with Caldwell or Bender.
"I hate it that the perception is that we're getting these players because of association with people like [Caldwell and Bender]," Jones told Forde. "Those guys have never asked me for nothing."
Caldwell said he's a supporter of UCF athletics, but there's nothing shady going on with him and the Knights' coaches
"I don't make any money off basketball," he told ESPN.com. "Nobody's done anything wrong. UCF is just a school that I like. Ain't nobody ever heard of UCF. Now they have a little success, and they're not supposed to? UCF gets some players and people act like there was extra help? That's bulls---."
How does Bender figure into all this? Aside from being Caldwell's friend, Bender is an AAU coach and has an association with former Louisville football player Rodney Carter.
When Bender was at the Derby Festival All-Star Classic last week, Forde said he was hanging out at the players' hotel before getting kicked out due to his reputed ties to an agent.
Braeden Anderson, who committed to Kansas in early April, apparently has ties to Bender. It is worth noting that Anderson committed to DePaul before Purnell began to hear different things about Bender and Caldwell. Once Purnell severed ties with the two, Anderson decommitted from the Blue Demons.
When he reopened his recruitment, Anderson spent time at Carter's house in Louisville, according to Forde.
There's a lot to swallow in these three reports, but Ware's stepfather summarized it well.
"There's a lot of things that have happened in this process," Wesley Junior told the Times, "that a lot of kids could learn from."
I'm sure the NCAA is interested in learning about it as well.
Photo: US Presswire