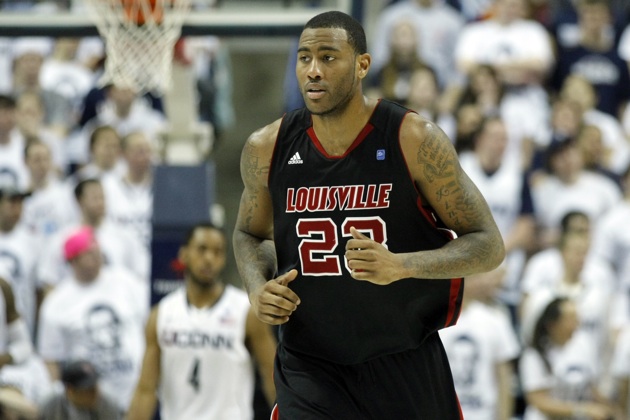 Posted by Jeff Borzello
We should have anticipated it when head coach Rick Pitino said he didn't expect Terrence Jennings to return to the Cardinals, but the decision was made official on Tuesday.
"Everything is looking on the up-and-up right now," Jennings told C.L. Brown of the Louisville Courier-Journal. "Nobody has given me reason to pull my name out this year."
Jennings, a 6-foot-9 big man, averaged 9.6 points, 5.2 rebounds and 1.9 blocks last season. He showed flashes of his potential during one stretch in the middle of Big East play, averaging 14.2 points and 7.2 rebounds over six games.
Likely due to his nonexistent back-to-the-basket game and his mediocre rebounding, most mock drafts do not have Jennings being selected in June's NBA draft. That apparently did not dissuade him.
"Most of the feedback I had gotten from [GMs and scouts] was I might be able to find a spot this year," Jennings said.
Louisville won't miss Jennings that much. The Cardinals have plenty of talent in the low post, led by shot-blocking extraordinaire Gorgui Dieng and ferocious rebounder Rakeem Buckles. Freshmen Chane Behanan and Zach Price are also expected to make an impact. Stephan Van Treese will provide depth.
The perimeter is equally loaded. Peyton Siva returns to man the point, while Kyle Kuric is poised for another breakout season. Mike Marra provides scoring on the wing, and Jared Swopshire will be back from injury. Chris Smith nearly averaged double-figures last year, and McDonald's All-American Wayne Blackshear is also welcomed into the fold.
Rick Pitino has plenty of options in the cards for next season.
Photo: US Presswire