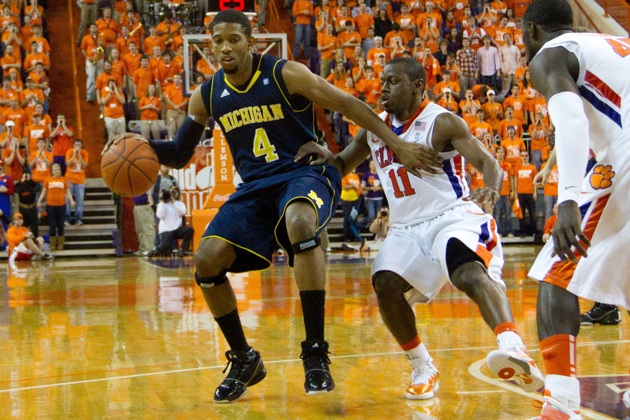 Posted by Jeff Borzello
According to Jonathan Givony of DraftExpress.com, Michigan sophomore Darius Morris has decided to keep his name in the NBA draft and will not return to the Wolverines for his junior campaign.
Morris announced on April 21 he was testing the waters, but received enough positive feedback to remain in the draft pool. Most mock drafts project Morris to be drafted in the late first round or early second round.
The 6-foot-4 point guard from Los Angeles averaged 15.0 points and 6.7 assists last season for John Beilein and the Wolverines. Morris was one of the top breakout performers in the country, improving drastically from his freshman season.
There were no seniors on last year's Michigan team, which lost to Duke in the round of 32 after defeating Tennessee in the second round of the NCAA tournament. The Wolverines' performance against the Blue Devils led many to believe they could be primed for a top-10 season next year.
Without Morris, the expectations will fall – but don't write off Michigan.
Tim Hardaway Jr. will become the team's go-to scorer after averaging 13.9 points during his freshman season. He could be poised for a monster year. Zack Novak, Stu Douglass and Matt Vogrich give Beilein a host of solid perimeter shooters to team with Hardaway Jr. on the wings.
Up front, Jordan Morgan will look to build off a very good freshman campaign in which he shot nearly 63 percent from the field and averaged 9.2 points and 5.4 rebounds. Evan Smotrycz didn't post gaudy numbers last season, but he showed flashes of his potential at various points. He is an inside-outside player who creates match-up problems with his skill set. Jon Horford and recruit Max Bieflfeldt will need to step up and provide depth.
Obviously, the key to Michigan's success will be the point guard position – who will replace Morris? Two freshmen will be welcomed into the program next season, Carlton Brundidge and Trey Burke. Brundidge is an undersized scorer with unlimited range and the ability to create his own shot. Burke is more of a pure point guard who can facilitate the offense and find teammates.
If one of the newcomers can step in and run the show, the Wolverines are capable of hanging with anyone in the country.
Photo: US Presswire