Posted by Eric Angevine

As fan bases in Tucson, College Park, and several cities in-between wait nervously to hear any news of Sean Miller's rumored meeting with Maryland about the open coaching job there, the Arizona Daily Star has finally mentioned the infamous "L" word.
Leverage.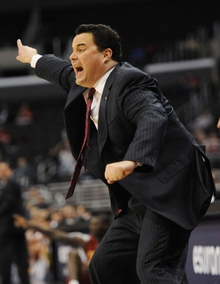 As in, Tucson's a nice place, and the Wildcats have a pretty luminous basketball history. Could it be that Miller is just using the Maryland opening to wring some money out of his employers in tough economic times?
That sounds selfish, but read what the Daily Star's Bruce Pascoe has to say about it before you judge:
(Hoover High School head coach Ollie) Goulston said he believed Miller was trying to ensure his assistant coaches get raises, which, despite the Pac-12's incoming television money, is not an easy thing to do politically in Arizona these days.

Miller's planned contract extension, for one, was not brought before the Board of Regents in April possibly because of the controversy over tuition increases.

As of now, both remaining assistants, James Whitford and Book Richardson, make about $200,000 (they were hired for $190,000 in 2009) and the other staffers all make considerably less.
Looking out for his assistants is a noble goal. It's also (hey, we have to be realistic here), a perfect excuse to jet if his demands aren't met. This way, it's not a selfish decision if he leaves, he did it for his homeboys.
Goulston was apparently sought out by the newspaper because he coaches incoming big man Angelo Chol, and knows Miller in that capacity. "I talked to him last night but I think there's all kind of reasons to stay at the end of the day," Goulston told Pascoe. "Sometimes these coaches use these situations for leverage."
Realistically, this is a no-lose situation for Miller. If he gets what he wants from Arizona, he stays in a sunny paradise, riding a wave of good feeling based on this past season's NCAA tourney appearance, and a nice recruiting class coming in. He has the potential to rule the Pac-12 in relatively easy fashion, despite being one of the most recent hires in the conference.
If he gets what he wants from Maryland, he slides into one of the better jobs in the ACC, where he will be instantly loved for his fiery intensity, which will bring back (slightly less sweaty) visions of Gary Williams, who retired this past week after 22 years at the school.
Sean Miller is on top of the world right now. That's a mighty big plank, resting on a rock-solid fulcrum.
Leverage.
Photo: US Presswire