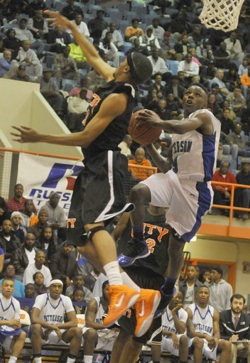 Posted by Jeff Borzello
HAMPTON, Va. – Aquille Carr still isn't tired of hearing the doubters.
The 5-foot-6 Carr is one of the most explosive scorers in the country, but many onlookers think he's not big enough to be a factor at the next level.
"I want them to think that," Carr said Friday at the Southern Jam Fest. "I always hear that. 'He's too small, he's overrated.' It keeps me working hard."
Carr began turning heads a couple of years ago because of his scoring exploits in Baltimore. He was named the MaxPreps National Freshman of the Year in 2010, and took his game to a new level during his sophomore campaign. Carr set a school record by scoring 57 points in one game, and has already topped 1,000 career points in just two seasons. This past season, Carr led Patterson (Md.) to a 25-2 record, falling in the state championship.
He owns a 48-inch vertical leap and some of the best dribbling ability in the country. Despite his size, he can get into the lane and finish against bigger players, or use his quickness and athleticism to get baskets in transition. His crossover and ability to change directions allow him to create space and get off open shots from the perimeter.
While some people might underestimate Carr, most high-major schools cannot be counted in that group.
Carr has an impressive school list, led by Memphis, Kentucky, Syracuse, Xavier, Texas, LSU, Wake Forest and Arkansas.
"I want a team that runs most of the offense around their point guard," Carr said.
He said that Syracuse and Wake Forest are both standing out right now, and he also wants to take a trip to Xavier.
Although high school powers like St. Patrick (N.J.), Findlay Prep (Nev.) and Oak Hill Academy (Va.) are courting Carr for his final two seasons of high school, Carr plans to return to Patterson.
"Patterson is the best fit for me," Carr said. "They help me there, they help me with my work."
On Friday, Carr seemed frustrated with early palming turnovers – a violation not normally called on the AAU circuit. After he adjusted to the referees, though, he began to demonstrate why he has become a national sensation.
"I just had to get to my style of play," Carr said. "I had to get back to my fundamental game."
It was just another hurdle in a long line of obstacles for the diminutive yet explosive guard.
And, as usual, Carr handled it with ease.
Photo: Baltimore Sun