INTERESTED TEAMS: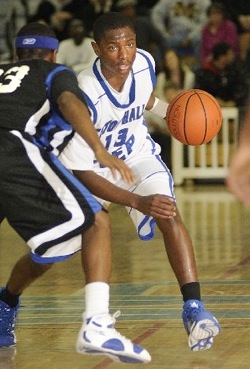 Posted by Jeff Borzello
Wally Judge choosing Rutgers over Maryland was the first recruiting domino to fall after Gary Williams' retirement.
Another one fell on Wednesday, as Terrapins' signee Sterling Gibbs has asked for his release from Maryland.
"He's asking for a release so he can fairly weigh his options," said Gary Charles, Gibbs' AAU coach with the New York Panthers. "Until he gets his release, he cannot talk to anyone.
"The same way Maryland had to do what they had to do, Sterling has gotta do what he's gotta do."
Since the news broke that Gibbs was opening his recruitment, Charles has heard from several schools. Florida, Louisville, Miami (Fl.), Texas, Seton Hall, Providence and Colorado are some of the schools that have already reached out.
Maryland is also still in the mix for the 6-foot-1 point guard from Seton Hall Prep (N.J).
"Absolutely," Charles said. "Sterling doesn't know [head coach Mark] Turgeon from a can of paint, and I don't think Turgeon knows Sterling either."
Turgeon did reach out to Gibbs' family on Tuesday night – which is the first contact Gibbs has had with anyone from Maryland since Williams retired.
The former head coach never called Gibbs to notify him he was retiring.
"Nothing," Charles said. "Didn't even contact him."
While Gibbs does not have a timeline for another decision, Charles said he does want to choose a school before summer school starts in June.

Photo: NJ.com