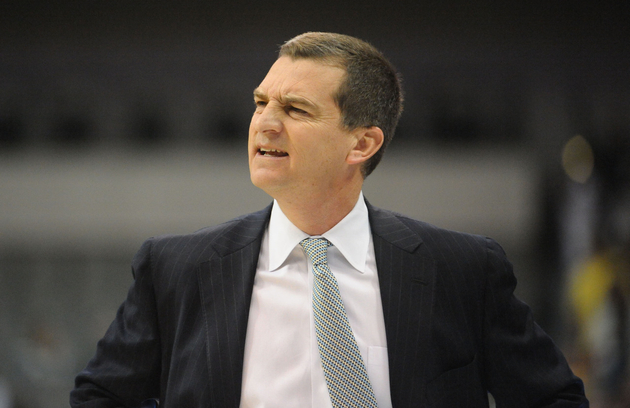 Posted by Eric Angevine
For those of us who write about college basketball, one of the excellent side effects of the coaching change at Maryland has been the resurgence in interest in Lefty Driesell, the endlessly quotable former coach of the Terps.
Recently, CBS affiliate 105.7 The Fan in Baltimore had Lefty on to talk about his coaching run-ins with Turgeon, which happened when Turgeon was starting his head coaching career at Jacksonville State and Driesell was winding down at Georgia State. Turgeon had admitted in his introductory press conference that he had long felt that Lefty hated him, because he never got more than a scowl and a brief handshake when they coached against one another. Driesell admitted that he never was much for fraternizing with the "enemy" and then launched in to several amusing anecdotes that yielded a record for soundbites per minute.
On Turgeon's first coaching gig: "Have you ever been to.. um.. uh... I don't know where that city is where Jacksonville State is!* It's out in the country, man. I don't know how he could ever get anybody to go to school there."
Recalling Turgeon's tactical aptitude: "I know one game we were down there playin' them and we were up 20 at the half. He ran his pick-and-roll play in the second half and he
killed
us. I put that play in the next year for us."
His role in Turgeon's hiring: "To tell you the truth, I was calling (Kevin Anderson) up to recommend John Lucas. Then I found out he'd already made a decision, so I just told him he made a great choice."
Listen to the entire chat with Lefty Driesell at the CBS Baltimore home page
.
That's Lefty for you: gruff to his opponents, bracingly honest even with his friends, and always, always entertaining. Taken all together, however, Lefty's comments have been very complimentary. That's a pretty good start for Turgeon in College Park.
*
By the way, Jacksonville State is in Jacksonville, Alabama, population 8,404 as of the 2000 census. The Gamecocks play in the Ohio Valley Conference. They should not be (but often are) confused with the Jackson State Tigers of the SWAC.Photo: US Presswire