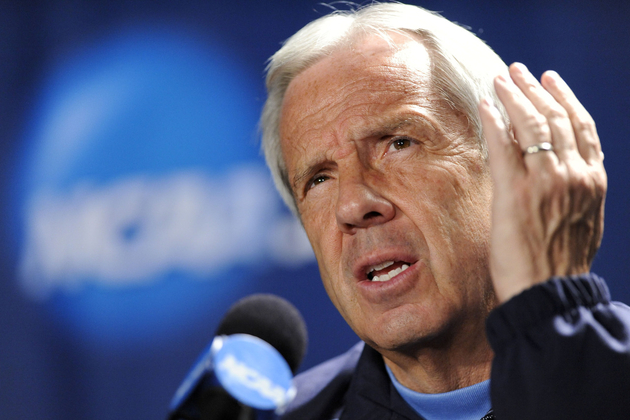 Posted by Eric Angevine
When the ACC/Big Ten matchups came out, the announcement stuck in one man's craw. Wedged itself in there sideways, apparently.
Not that having a glottal obstruction stopped former Wisconsin AD Pat Richter from speaking. Oh no, he spoke.
Annoyed that the game between Wisconsin and UNC will not be played in Madison, Richter told WTLX-FM exactly what he thinks of Carolina's head coach. "I know darn well that you'll never get Roy Williams here.
He won't come to Wisconsin
; he's afraid the people are going to boo him and everything else. I think that's all bogus," Richter said.
Website
Madison.com further expounded on Richter's agita
:
In comments taped for his weekly radio show on WTLX-FM/100.5 and made public in advance of air time, Richter takes the Challenge's scheduling process to task. And he asserts that Williams, who remains an unpopular character locally a decade after ripping the Badgers' style of play in their 2000 Final Four appearance, "won't come to Madison" and ensures that aim by unduly influencing the decision-makers at ESPN and the respective conferences.

Richter notes that after the UW-UNC matchup was bypassed in the first 12 editions of the Challenge, it finally comes to pass at a time when a loaded North Carolina team will open the season in the Top 5.
If Williams is concerned about the possibility of being booed, he is right to be. His comments about the slow-down style preferred by the Badgers in 2000 have stayed under the skin of several Wisconsinites. Williams was booed in 2002 when Kansas played at the Kohl Center for the Midwest Regional. That wasn't even a direct matchup of the two teams.
Big-time basketball coaches know how to showcase their teams. Whether Williams was able to turn things his way or not, that's the way it looks to fans in Madison. Ol' Roy's going to take some heat, whether he likes it or not.
The trick, for the UNC athletic department, is going to be keeping Williams from firing back. The UNC coach has a reputation for being thin-skinned and publicly combative with those who say things he doesn't like to hear. There may yet be more fireworks in the offing.
Photo: US Presswire