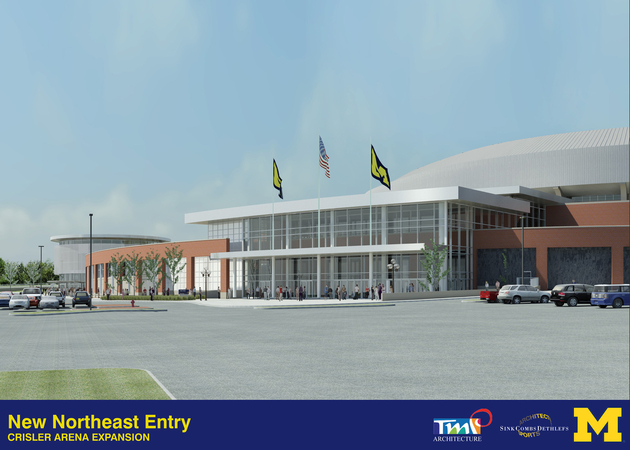 Posted by Eric Angevine
The Michigan Wolverines emerged from March Madness as one of the more intriguing young teams in the nation. With a solid coach in place, talented players in the program and a well-funded athletic department behind them, the hoops Wolverines are on the verge of becoming a major player in the Big Ten again.
The University Board of Regents is taking steps to improve the infrastructure around the team as well. According to a UM press release, a $52 million
renovation scheme for 43-year-old Crisler Arena
was approved this week.
"The expansion will add approximately 63,000 gross square feet for new fan entrances (top), additional retail spaces and ticketing areas, as well as a private club space," the release stated. "The renovation will improve seating for people with disabilities and provide expanded and renovated concourses to allow for an increase in restrooms, concessions and other fan amenities. All seats throughout the arena will be replaced."
This is the latest upgrade approved by the Board of Regents, following an initial $20 million that improved immediate infrastructure concerns such as lighting, plumbing, electrical work and repair of the building's roof. The University is nearing completion of a $23.2 million Basketball Player Development Center as well.
It's easy for an administration to pay lip service to the idea of playing for league titles and national championships, but this wave of construction on the Michigan campus gives the ring of truth to the promises of a brighter future for the Wolverines. With the University of Nebraska joining the Big 10 in the upcoming season, amid a welter of
development plans of their own
, Michigan is doing what must be done in order to not only keep up with the Joneses, but beat them from time to time.
(
additional renderings of proposed changes can be seen here
)
Photo: University of Michigan