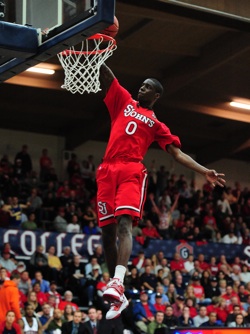 Posted by Jeff Borzello
With at least nine newcomers in the fold next season, St. John's needed as many veterans as possible.
The Red Storm are now down to just one returnee – backup point guard Malik Stith – with head coach Steve Lavin announcing Sunday that rising sophomore forward Dwayne Polee will transfer.
"I really enjoyed my experience at St. John's and I'm going to miss the staff and New York," Polee said in a statement. "Right now I feel it is best to be close to my family and help us get through a health issue."
Polee, a 6-foot-7 forward from California, averaged 4.4 points and 2.5 rebounds last season, appearing in all 33 games.
His length and unbelievable athleticism provided the Red Storm with a player who could make an impact at both ends, blocking shots at one end and finishing above the rim in transition.
"Dwayne is an outstanding individual with a bright future," Lavin said. "He has been a valued member of our basketball family. He leaves St. John's University in good academic standing and we wish him well."
Prior to signing with St. John's last April, Polee had been committed to USC, reopening his recruitment after the Trojans' coaching change.
Photo: US Presswire