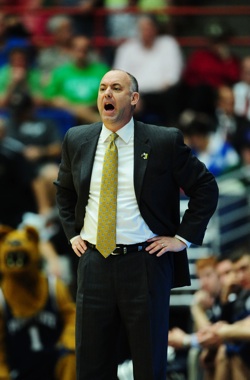 Posted by Jeff Borzello
In a shocking coaching move, Penn State head coach Ed DeChellis is leaving the Nittany Lions for the vacant coaching job at Navy, sources confirmed to Gary Parrish of CBSSports.com.
The story was first reported by Dana O'Neil of ESPN.com.
DeChellis will replace Billy Lange, who left to become the associate head coach at Villanova.

"It's been a very, very dificult weekend for me and my family. If I break down, there's good reason for that," DeChellis said at a news conference Monday afternoon. "Penn State is a special place for me and my family, but I found another special place in the U.S. Naval Academy."
By leaving Penn State, DeChellis leaves a bigger conference, a bigger school – and a bigger paycheck. David Jones of The Patriot-News reported that DeChellis was making $650,000 at Penn State, but will dip down to $450,000 at the Naval Academy.

"This is a great job ... a Big Ten job with Big Ten facilities. We've got all the bells and whistles," DeChellis said. "But to me, it's not about the bells and whistles. It's not about the large arenas anymore."
DeChellis went 222-232 in eight seasons at Penn State, reaching the NCAA tournament for the first time this past March.

The Associated Press contributed to this story.

Photo: US Presswire