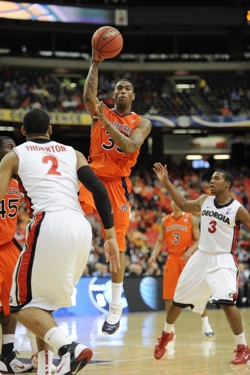 Posted by Jeff Borzello
Throughout all the struggles Auburn went through last season, one of the main constants was Earnest Ross. With a solid recruiting class and several returnees, Ross was expected to lead the Tigers' turnaround in 2011.
Today, Auburn head coach Tony Barnee announced Ross and fellow junior Ty Armstrong were both leaving the team.
"I have mutually agreed with Ty Armstrong and Earnest Ross for them to go in a different direction both academically and athletically," Barbee said. "We wish them the best in their future."
Ross was the team's leading scorer and rebounder last season, averaging 13.1 points and 6.6 rebounds. Armstrong tore his ACL last summer, but averaged 1.7 points and 1.4 rebounds in 12 games when he returned.
Auburn went just 11-20 last season, reaching double-figure victories by winning two of its final three games. The Tigers had a stretch when they lost 12 of 14. Now, they'll attempt to improve without their best player.
Photo: US Presswire