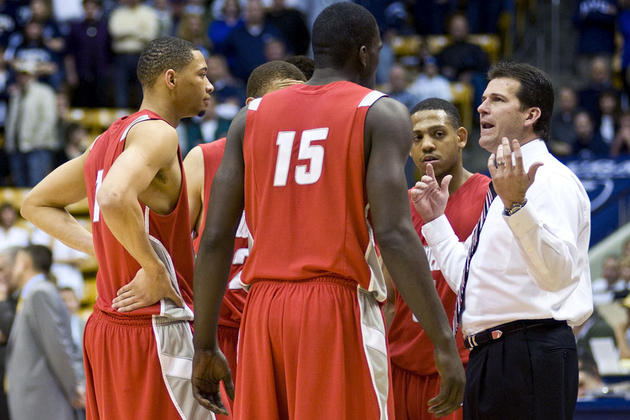 Posted by Eric Angevine
It may still feel like the Final Four just ended, but for most schools, the offseason is now more than two months old. With that in mind, all of us at the blog are going to take this week to give you what we're calling "Conference Catch-Ups." The motive is to recap the biggest storylines in college basketball's offseason so far, plus keep your appetite whetted in what is the longest offseason in major American sports. In case you missed any of what's happened in the Mountain West, here it is.
The Big Stories
Headline No. 1: Realignment. Brigham Young, fresh off one of the best seasons in school history, is heading off to battle Gonzaga and St. Mary's in the burgeoning West Coast Conference. Utah is now in the Pac-12, and TCU is bringing Horned Frog madness to the Big East a year down the road. On the way in are Boise State (2011) and Fresno State and Nevada (2012). Our own Tony Barnhart questions the worth of the reconstituted league, but he's talking mostly about football. Basketball-wise, the early returns are not likely to be as strong, either.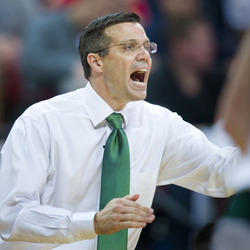 Headline No. 2: Lon Kruger is back in the Big 12. UNLV head coach Lon Kruger seemed like a guy who had been around and might actually be happy to finish out his career in Vegas. Not so. The former K-State, Florida, Illinois and NBA head man went back to the Big 12 to take over the Oklahoma squad that was left floundering by a legacy of talent without discipline built by Jeff Capel. Kruger is a relatively youthful 58, and may be just what the Sooners need to get back on track. In the meantime, it falls to Steve Fisher at SDSU and Steve Alford at New Mexico to provide a little continuity atop the league.
Headline No. 3: Rams bet on Miles. Colorado State didn't make it to the Big Dance last season, but they could still hear the music well into March, which is something the school hasn't experienced for some time. That was enough for AD Paul Kowalczyk, who gave head coach Tim Miles (right) a three-year extension with a reported $330,000 raise. Things are looking up in Fort Collins.
The Great Unknown
Can the momentum be maintained? Last season was a real thriller for Mountain West fans, as they watched San Diego State and BYU become top-ten programs behind dynamic players like Jimmer Fredette and Kawhi Leonard. UNLV was in and out of the national polls as well. Now both superstar players are headed for the NBA, Lon Kruger has departed, and the Cougars are no longer in the league. Will this evolving version of the conference retain any of the magic wrought in 2010-11? If there isn't at least a slight dip in the league's profile, it will come as a surprise.
NBA Draft report
Kawhi Leonard is rather wisely leaving SDSU while his stock is red-hot. He's a bit undersized for a pro-level inside banger, but that's never stopped him from yanking balls out of the sky or jamming them in the opposite hoop yet. Other than that, the biggest loss was The Jimmer, but that senior moment was unavoidable.
Transference
Coming
— Colton Iverson (Minnesota) to Colorado State.
Going
— Zach Bohannon (Air Force).
— Nikola Cerina (TCU).
— Derrell Conner (Nevada).
— Marko Kukic (Nevada).
— Daylen Harrison (Wyoming).
— Sam Hicks (Boise State).
— Desmar Jackson (Wyoming) to Southern Illinois.
— Amath M'Baye (Wyoming) to Oklahoma.
— Maurice Wiltz (Colorado State).


Team commentary in 20 words or Less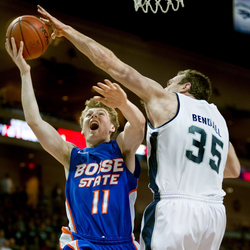 Air Force: Leading scorers Fow and Lyons come back to a middle-of the pack team that may still struggle to match up to the big boys.
Boise State: Former Gonzaga assistant Leon Rice oversaw a 20-win season for the Broncos in his first season. MWC will be a new challenge.
Colorado State: Tim Miles has the Rams on the right course. With BYU gone, there might be room at the top.
New Mexico: Dairese Gary is gone from a team that went 8-8 in the league last season. UCLA transfer Drew Gordon must make hay in his senior year.
San Diego State: The tourney-ready roster from last season has been dismantled by graduation and early entry. Expect a rebuilding season.
TCU: Annually one of the worst basketball teams in the MWC. Thanks to football prowess, will soon be Big East's burden.
UNLV: By all accounts, the Rebs made a good move in hiring BYU assistant Dave Rice. Could be a contender next season.
Wyoming: Larry Shyatt comes back to a team that floundered badly in league play last season. Maybe he learned something new at Florida.
Photos: US Presswire