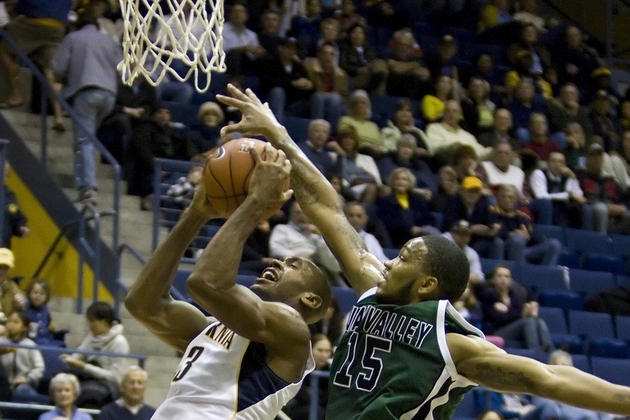 Posted by Eric Angevine
Let's be honest. There's not much drama left in the WAC these days. With the conference undergoing frequent mitosis on football grounds, the league's guiding lights are left scrambling to preserve some semblance of basketball viability for the near future. To that end, they've brought the Denver Pioneers aboard as basketball-only members, and are considering doing the same for Seattle, a school that only recently resumed playing DI hoops.
Several other institutions of higher learning are under consideration for WAC slots, and one of them is already crying foul over alleged interference. Utah Valley, which just completed an 11-1 run through the inaugural Great West hoops season, is gunning to move up to the WAC as soon as possible, setting up a natural rivalry with league basketball bully Utah State. In fact, the Mouse that Roared (technically, they're Wolverines, but bear with me here) is so confident of success that it feels the Aggies are blocking the realignment bid, ducking the no doubt onerous task of recruiting against the school down the road in Orem, Utah.
"Other people in the WAC tell me that if Utah State would support us … we would get in," Utah Valley athletic director Michael Jacobsen told The Salt Lake Tribune last week. "We don't think that we're getting that support."
WAC commissioner Karl Benson acknowledges that UVU is being considered for a spot, but hasn't publicly addressed the Utah Valley foofaraw. So we'll leave it to Utah State president Stan Albrecht to give the more blunt assessment, again from the Tribune.

"That's a bunch of B.S.," Albrecht said. "There's nothing to block. We haven't even met yet. People have been getting way ahead of themselves on the issue, and it's unfortunate. Until we meet in June, there's really nothing to talk about. The notion that we wouldn't want to compete for recruits is completely untrue. Give me a break. We've competed for decades against Utah and BYU, and we've done quite well."

Heh. He's got a point there. In addition, as always, any and all conference realignments at the WAC level are filtered through the lens of football, a sport in which the 2012 version of the WAC will be largely irrelevant. Utah Valley doesn't sponsor football, so they're no help there. Craig Hislop of the Cache Valley Herald Journal laid that argument out in pretty definitive terms in a May 27th column:


Utah State's reality is this: If the WAC doesn't remain a viable football-playing conference, it leaves Aggie athletics in a world of hurt, speaking of desperate people.

Boise State leaves the league July 1. Fresno State, Nevada and Hawaii will follow a year later.

When the 2012-13 academic year begins, five of the current WAC members will be elsewhere. The league has covered that contingency adding Texas-San Antonio and Texas State. So in 2012-13, WAC football will include seven schools. That is enough.

Let's say New Mexico State and Louisiana Tech search for other conference options. That rumor is out there, but it gets little traction since neither school appears atop the expansion lists of other conferences. But, should they ever depart, the WAC's football goose is cooked.

Thus, it's Utah State's top priority, and it should be the WAC's as well: Explore every option that keeps football a WAC-sponsored sport. Why be in a hurry to add basketball-only schools in June?

Where will Utah Valley be in a year? Where they are right now. Just as anxious and ambitious. And just as available.

The Aggies aren't standing IN Utah Valley's way; they're standing UP for keeping WAC football viable.
Bravo for Utah Valley, honestly. The school is making noise and staying in the discussion, even if they're full of it. As Hislop points out, however, all of the leverage -- as well as all of the risk -- falls on the side of the league's current members, of which Utah State is the most prominent. At this point, the world is still full of geographically reasonable options for the WAC. One of the most logical places for the league to look would be Montana, where the Grizzlies of the Big Sky have a viable DI hoops squad AND
one of the best FCS football programs around
.
The WAC needs to add gridirion to its diet. Until that craving is satisfied, Utah Valley will be stuck shouting from the sidelines.
Photo: US Presswire