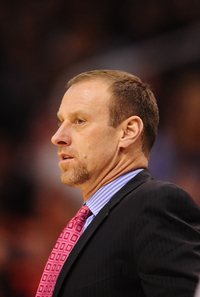 Posted by Eric Angevine
The Church of Latter Day Saints comes in for a lot of ribbing these days. There's the
BYU honor code scrap
from this past winter, and a hit
Broadway musical from the creators of South Park
. Those of us who aren't members of the church don't understand the strictures believers willingly adhere to, so they seem like fair game to make light of.
One of those strictures is the requirement that young church members travel to perform a religious mission. It's the reason players for Utah, BYU, Utah State, Weber State, etc. are often older than their peers - they leave and come back to continue their playing careers.
Apparently, there's an unwritten rule that players on Mormon missions cannot be recruited by other programs. Utah - on its way to the Pac-12 - is accusing Brigham Young - on its way to the WCC - of violating that rule. 6-foot-7 forward Josh Sharp is a Utah signee who has been away for two years. He's enrolled in summer classes at BYU while still on his sojurn, though BYU has not officially signed him, and can't comment on his status as a result.
Here's a
statement from new Utah head coach Larry Krystkowiak
(right), as cited in the Salt Lake City Tribune:
"We want Josh to be a part of our program and are disappointed that rival schools can take advantage of a loophole in the system should they choose," Krystkowiak said in the statement last week. "Josh attended classes here for a year, signed an NLI and financial aid agreement [but not simultaneously], and we want him to continue his education and playing career here. It is my understanding that there is an unwritten rule that players cannot be recruited by other schools while they are serving missions. To do so is not only inappropriate, but it creates an atmosphere of ill will."


The Tribune article is careful to note that there is no evidence clarifying whether Sharp contacted BYU of his own accord or was "recruited" by the school while he was away. However it happened, though, the in-state rivalry seems primed to bubble away in perpetuity, even as the two schools drift in opposite directions on the currents of conference realignment.
Photo: US Presswire