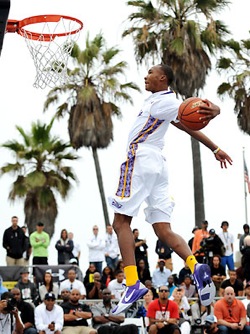 Posted by Jeff Borzello
When Amir Garrett first burst onto the basketball scene in high school, the caveat that he also played baseball was always a factor. After all, he's 6-foot-5 lefty, throws in the 90s and had baseball offers from schools like Loyola Marymount.
When he enrolled at basketball powerhouse Findlay Prep last fall, the baseball dream seemed to be over. Garrett eventually signed to play basketball at St. John's and ended up as a top-75 recruit.
Last month, though, Garrett apparently worked out in front of a number of MLB scouts at the College of South Nevada and was impressive, according to SI.com's Luke Winn. He reached 96 miles-per-hour on his fastball, which is even more eye-popping when you throw in the fact Garrett hadn't thrown in a game since the USA Baseball's Tournament of Stars in June 2010.
"It was absolutely the most bananas thing I've ever seen on a baseball diamond," College of Southern Nevada pitching coach Nick Aiello told Jeff Eisenberg of The Dagger.
On Tuesday, Garrett was drafted by the Cincinnati Reds in the 22<sup>nd</sup> round, with pick No. 685.
All along, most people thought Garrett might choose one or the other, basketball or baseball. Now, it looks like he's going to try both.
"If he went high, it would have been one or the other," Darrow Garrett, Amir's father, told David Schoen of the Las Vegas Review-Journal. "We love Steve Lavin, and I told everyone it would have taken a lot to just walk away from him. This way he can still play basketball at St. John's and do the things he wants to be able to do."
Garrett will play professional baseball in the Reds' organization in the summers, and will suit for the Red Storm during the basketball season.
"Baseball is my first love," Garrett said. "I put it on hold for a little bit, but I always had it in me."
Based on potential, Garrett could have a more prosperous future playing baseball. Drawing comparisons to Tampa Bay Rays' star David Price, his combination of size and velocity is not matched by many people in baseball.
As Aiello told Winn, Garrett is more likely to get noticed in baseball.
"There might be 100 players in the NCAA and NBA that can match his size and athleticism, whereas there might be five in the whole country in baseball," he said. "I think he realizes that when he gets off the bus in A-ball, there won't be anybody who looks like him."

Photo: ICON SMI