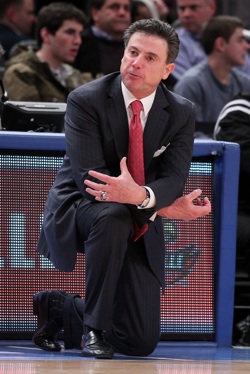 Posted by Jeff Borzello
Despite its loss to Morehead State in last year's NCAA tournament, there will be an embarrassment of riches in Louisville next season. Need proof?
On Tuesday, head coach Rick Pitino announced three players, including top returning scorer Kyle Kuric, would give up their scholarships and become walk-ons in the fall.
Joining Kuric, who averaged 10.6 points last season, will be Chris Smith and Elisha Justice. All three were originally taken as non-scholarship players, but were put on scholarship at various points during their Cardinals' careers.
"We've been very up front with everybody," Pitino said. "Those guys weren't supposed to be on scholarship but they were."
Smith is the younger brother of NBA guard J.R. Smith and Kuric's father is a brain surgeon. Justice turned down scholarship offers to walk-on at Louisville. While I don't know for a fact, obviously, money doesn't look like it will be much of an issue.
Of course, the primary reason for removing scholarships from these three players is the scholarship issue. At times, Louisville had up to 19 listed scholarship players. Since then, George Goode left and Tony Woods and Ryan Taylor have decided not to attend Louisville.
With Kuric, Smith and Justice giving up their scholarships, Pitino is now down to 13 players on scholarship (the number does include George Mason transfer Luke Hancock, who will sit out this upcoming season).
Yes, it's conceivable that Louisville can go three-deep at each position with scholarship-caliber players.
Like I said, embarrassment of riches.
Photo: US Presswire