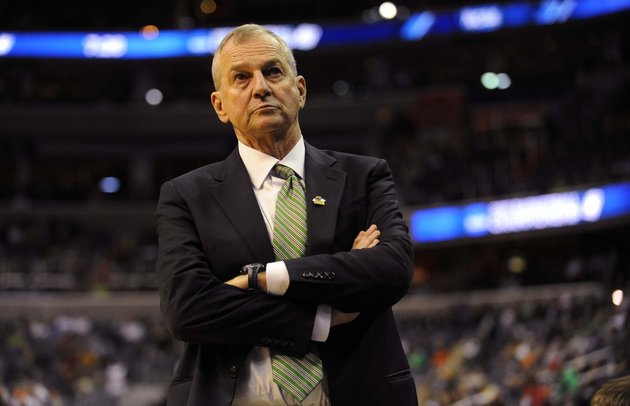 By Matt Norlander
As if we ever believed Jim Calhoun in the first place.
The 69-year-old UConn coach told the media in mid-May that he'd take a family vacation in June, and
it was then that he'd decide whether or not to come back to coach
the Huskies for another year.
Well, June's come and gone and we still have no official word from Calhoun. He very well may have made up his mind. It's just not gone public yet. The fact we have no news probably means good news for UConn fans that want Calhoun back -- because he's coming back. He has to be. Going this long into the offseason, with the ever-critical July recruiting period beginning tomorrow, and on the heels of Jeremy Lamb putting 35 on Lithuania earlier this afternoon ... the man will be back on the sidelines next year. Right?
So let's get on with it and just make it official already. It's gotten to the point where UConn's new president has, for the second time,
publicly supported the Hall of Fame coach's return
and ... wait ... there's another vacation on the horizon?
Susan Herbst said Tuesday she has told the 69-year-old Hall of Famer that she loves having him in the job, and that his achievements as a coach and philanthropist inspire the UConn community.

He says he is not setting a deadline for himself to decide on whether to retire, and probably will not make up his mind until after a family vacation this month in the Caribbean.
I'm not privy to the Calhoun family travel plans, but who knows where the wires got crossed. Did the man take a vacation a few weeks ago and just sort of forget to write down the pros and cons? Nothing like a Caribbean trip to really get a guy's mind in order though, right? Was there no vacation in June, and if so, what was Calhoun doing? I know he golfed in the Pro-Am at the Travelers in Cromwell, Conn. I digress.
At this point, Connecticut needs Calhoun more than vice versa. It's been that way for awhile. Calhoun will never end a season as thrillingly, successfully, unexpectedly and triumphantly as 2011. It'd be best for him to retire. But that doesn't look like it's happening. At least I don't think it does. We're approaching a Favre-like spectrum of deliberation with Calhoun. I know, I just shuddered for a second there, too.
Photo: US PRESSWIRE