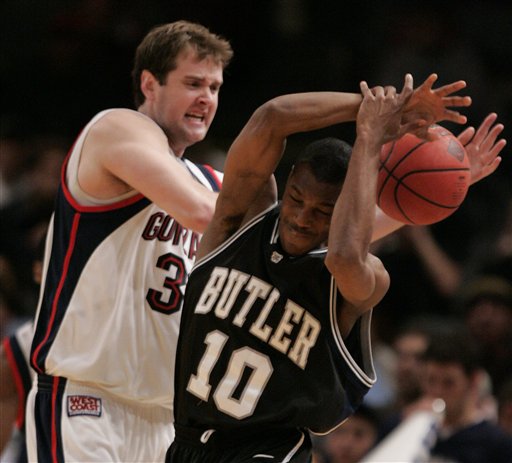 By Matt Norlander
The two most endearing, identifiable non-BCS programs in college basketball have finally agreed to a home-and-home.
And this is no scheduling tweak that causes fans to wait more than a year; Butler and Gonzaga will play each other
this upcoming season and the next
. This year's game will be played Dec. 20.
It is great news for the sport. From
the inaugural Champions Classic
, to the Veterans Day
game on the aircraft carrier that disposed of bin Laden's body
, to the always-exciting Maui Invitational and so much more, the first six weeks college basketball's regular season has gotten better and better. This announcement is sweet, delicious icing.
These kinds of makes-so-much-sense-it-should-have-
happened-sooner matchups give the early-season slate more lubrication. There's an inflated sense of importance, urgency and intrigue. Gonzaga and Butler may not have a lot of identifiable players next year, but that doesn't much matter. They'll both still be very solid teams, and the front of the jersey sells.
And everyone knows Mark Few and Brad Stevens. Two of the nicest coaches in the game who've done it right and stand to be pillars of the sport for the next two decades. It's Butler and Gonzaga. No two other teams from non-BCS schools could draw a television rating like this. Most intra-BCS games couldn't either. So my only question is -- why make this only a home-and-home? Add another, annual layer to the college basketball season by scheduling this game each season, you two schools.
This game could have implications come seeding time as well, as both programs are now regularly scheduling themselves into tough games out of conference. Since this game comes near the end of non-conference play, we'll have a formed idea not of what these teams are, but what they can be. Late-December games are tricky, though, as Christmastime can cloak a club's identity and potential.
Some speculation/backstory on how this came to be ... Gonzaga clearly postponed its series with Memphis in an attempt to make this short-term duel with Butler possible. The school won't directly admit that, but that seems to be what's at play here. Gonzaga had been thumped by the Tigers, going 1-5 the past six seasons. But it all worked out well for everyone involved, because Memphis picked up
the other big non-BCS school with national appeal: Xavier
. It's a good trade-off.
As the photo indicates, the teams have played before -- just once. Butler beat the Zags, 79-71, in 2006 at the NIT Season Tipoff.
Photo: AP