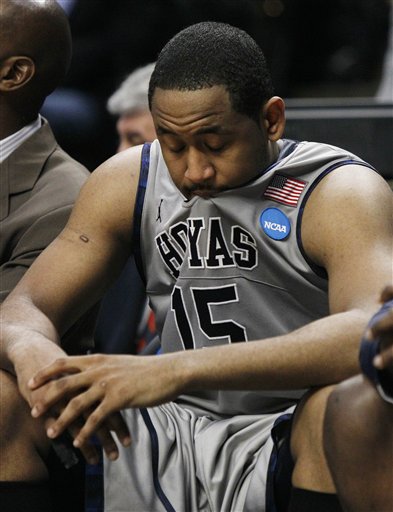 By Matt Norlander
Austin Freeman didn't handle not being drafted all that well.
According to the Washington Times
, less than 48 hours after the NBA Draft, Freeman was ticketed for a DUI, along with six other traffic-related offenses.
The scene depicted isn't pretty -- as most traffic stops after 4 a.m. tend to be less than flattering or incident-free.
According to Hyattsville District Court records, Freeman was pulled over June 25 at 4:08 a.m. in Prince George's County by the Maryland State Police.

He was cited for driving under the influence of alcohol, used when a driver's blood alcohol level is .08 percent or higher, and driving while impaired.

Freeman was traveling 71 mph in a 55-mph zone, the records said. Other offenses included reckless driving, negligent driving, failure to obey a traffic control device and not displaying the vehicle registration card when asked by the officer.
It's haphazard and dangerous, of course. I only wish this information was shocking. Unfortunately, I heard through a number of people in recent years that Freeman was a well-known partygoer at Georgetown who liked to drink in excess. I witnessed it first-hand the Friday night of Final Four weekend in Houston this past spring, when Freeman and a few other players showed up at a bar (all were of legal age) and certainly wasted no time imbibing. That kind of behavior is particularly jeopardous for Freeman, a person who lives with diabetes.
Freeman was critical to Georgetown for the past four seasons. He put up 17.6 points per game in 2010-11 and was the leader of John Thompson III's team. Without him, the Hoyas wouldn't have been anywhere near the Big East contender they'd turned into the past three seasons. Now out of college and searching for a job in hoops somewhere, Freeman best get his act together soon if he wants to get a contract somewhere overseas.
The harshest punishment Freeman faces is a year in jail, a $1,000 fine and 45 days without a license. His court date has yet to be determined, and no statement from Freeman or his agent, Joel Bell, has been made.
Photo: AP