By Matt Norlander
LAS VEGAS -- I just spent the past 90 minutes at the Rancho High School gym watching
CBSSports.com's No. 1 overall
2012 recruit Shabazz Muhammad.
It was a
dee-light.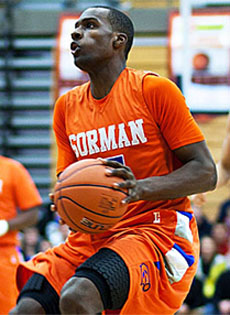 You can hear about a player, or see said player on shaky YouTube videos ad naseum, but nothing matches being a few feet away and seeing his skill set in person for the first time.
Muhammad, a lefty, can deftly go each way. He was throwing down dunks with ease over players that have much more body mass and height than him. (Muhammad's a sturdy 6 feet, 5 inches.) He also crossed up a few guys from about 22 feet and swished 3s as Mike Krzyzewski, John Calipari, Josh Pastner, Ben Howland and other drooling coaches in the hunt for his services looked on from the light-gray bleachers.
It was incredibly impressive, most of all, because his team came behind to beat the Atlanta Celtics, a team that's one of the more stacked groups in the country. Muhammad had 38 points, continuing his trend of filling up scorebooks this month. His 38 comes in an economical way, if that makes sense. He's certainly not a ballhog.
Afterward, a small swarm of reporters -- myself included -- got about two minutes with the future NBA lottery pick (only an unforseen injury or life on the lam will prevent that from happening) before his coach got him out of the gym as quickly as possible.
"I'm taking it slow," he said of not only the recruiting process, but the pressure that's supposed to exist on his 17-year-old shoulders. "I'm going to focus on [teams recruiting me] in August, after the AAU season."
Muhammad listed off, in order, Duke, Kentucky, Kansas, Texas, Texas A&M, UCLA, Memphis and UNLV as schools he'll focus on. The A&M choice, I believe, is a relatively new one. From what I gather, there's an assistant at the school who's close with Muhammad's father.
Muhammad also said his shooting is now the top priority for him. Said he's taken the criticism of his jump shot seriously and will continue to work to improve it diligently. He really couldn't have been more impressive. And best of all, he's a good kid. Everyone says that about him. Grounded, intelligent, tempered and talented.
It's not only easy, it's blindingly obvious why this kid is so coveted.
Photo via Larry Lawson