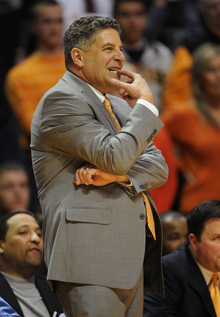 By Matt NorlanderUPDATE: ESPN.com quotes Pearl below.
A second NBA D-League team is believed to be interested in hiring Bruce Pearl as head coach.
In May it was
the Maine Red Claws, though that courtship never materialized. The team
wound up hiring
former DePaul and Virginia coach Dave Leitao a few weeks ago.
But now comes a second option at that level. ESPN's Marc Stein
tweeted Tuesday afternoon
that the Texas Legends are now in pursuit of the former Tennessee coach. The move makes sense for D-League teams who are looking to sell tickets any way they can. Pearl would be the only coach in that league who doubles as a household name.
The Legends are the feeder club to the Dallas Mavericks, who of course just won their first world title in June.
ESPN.com got Pearl on the record
late Tuesday afternoon.
"When the world champions call you have to listen," Pearl said. "Mark Cuban and Donnie Nelson have been great and I'm looking forward to talking to them."

Dallas Mavericks president of basketball operations Donnie Nelson heads the management team as Legends co-owner.

Sources told ESPN.com that there have been ongoing negotiations between the parties.

Said one source: "The job is [Pearl's] if he wants it."
And for Pearl, it could make sense, but he's still in a twist-in-the-wind situation right now. He is still awaiting to hear back from the NCAA, which will bring down a punishment on him and the Tennessee program some time later this summer or in the early fall. It wouldn't look so good for Pearl to take on a job while he awaits his fate in the NCAA, a fate many believe will include at least a one-year show cause, which means he wouldn't be able to work for any program for that duration.
Photo: US PRESSWIRE