By Matt Norlander

It still breaks my heart to think about Austin Hatch. And to think of his family, all of those perished minds and bodies.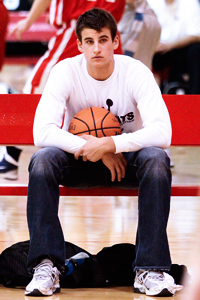 Hatch is the 16-year-old who is now without any direct relatives after he survived two plane crashes in eight years. His parents, siblings and stepmother were none the luckier.
He's committed to Michigan, where his late mother went to school. But basketball, while it ties into the reasons for posting on this blog, doesn't matter much now to Austin. Will it in time? Don't even know that. He's still in recovery from
the June 25 plane crash
that took his father and stepmother away from him forever.

ESPN.com's Elizabeth Merrill wrote the story
that needed to be written. She chronicled the Hatch family, what led to that doomed flight, how Austin's lived without his mother, older sister and younger brother for eight years -- all of it.
I can't recommend the tough read enough.
Austin's not ready to talk about it yet. Can't, even; he's only recently reacquired the ability to open his eyes. (What new world does he want to see?) So Merrill gets the story from those who know Austin and knew his father well. They can tell they story and situation as it feels right now, and they do. You see the devastation and hope that's combined in Fort Wayne, Ind., right now.
That's where the Hatch family lived.
In the piece there's a comforting-yet-heartbreaking detail I'd not learned before. Just prior to taking the flight to Michigan peninsula for a vacation, Austin's stepmother, Kim, had returned home after helping tornado victims in Joplin, Mo.

She drove 10 hours the previous night to make it back for this flight, tired but full of inspiration. She took a seat next to her husband in the front. Austin made his way to the back, near his labradoodle, Brady. He'd earned this vacation. Although he was barely removed from his sophomore year of high school, Austin had just accepted a scholarship offer to play basketball for Michigan, and his dad was over the moon about the kid starring for the maize and blue. "One of the best weeks of my life," Hatch texted a friend on Father's Day.
That pit grows back in my stomach.
Who knows where the story goes from here. Will Austin eventually play basketball at Michigan? That is a question that's months away from being answered. He's got grandparents and uncles and aunts to lean on as he becomes more and more aware of this cold third stage of his life he's entering -- and he's not yet 17.
And, again, if you would like to send a message to Austin,
you still can
.
Photo via Chad Ryan of the
News-Sentinel