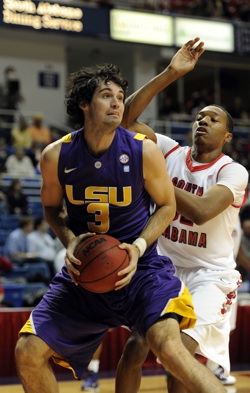 By Jeff Borzello
After losing Kawhi Leonard, Billy White and Malcolm Thomas from last season's Sweet 16 team, San Diego State needed frontcourt help heading into the fall.
The Aztecs received a surprising boost over the weekend, as former LSU transfer Garrett Green chose San Diego State.
"It was a tossup between Indiana, Wichita State and San Diego State," Green told the Times-Pacayune (La.). "All the coaches were great coaches so it was a hard decision. I'm from California and the grad programs [San Diego State was] offering struck my interest the most."
Green, a 6-foot-11 forward, is originally from Woodland Hills, Calif. and did consider Long Beach State as well. He will be eligible immediately at San Diego State.
Last season, he played in all 32 games and averaged 6.3 points and 5.1 rebounds for the Tigers. During one four-game stretch in January, Green averaged 13.5 points and 7.3 rebounds. He also went for 15 points and 13 rebounds against Wichita State in December.
Expect Green to get immediate playing time for Steve Fisher. San Diego had just eight scholarship players on the roster before Green chose the Aztecs, with the returning frontcourt players averaging a combined 3.7 points and 2.9 rebounds. The uncertainty surrounding Brian Carlwell's appeal for a sixth season makes Green's decision even more important.

Photo: US Presswire