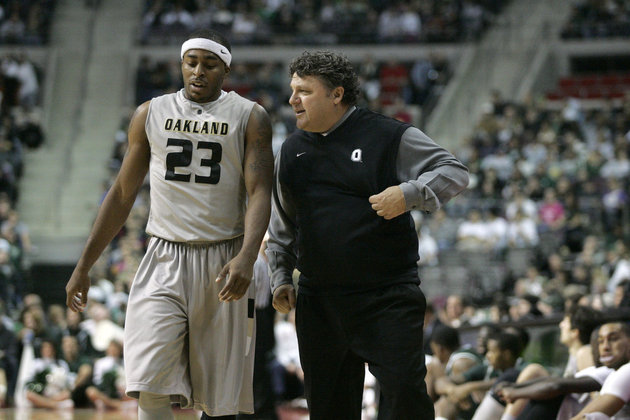 In our Trippin' series we're talking to teams as they return from preseason trips to foreign locales. Click here for all Trippin' related stories

By Matt Norlander
Very few mid- and low-major programs have to go through what Oakland and head coach Greg Kampe will in 2011-12, the loss of an NBA-level player that was utterly dominant in his league during
his junior and senior seasons
. It's a blessing every coach wants to be cursed with. I spoke with Kampe on the phone Tuesday, and he told me he's never had to replace a player like Keith Benson (drafted 48th to the Atlanta Hawks) before.
It's a challenge he accepts, and he acknowledged that this team will have a different identity, a different personality, than it did when Benson was with the team. And that speaks to Benson's play, purely, because when asked if Benson was a man of few words, Kampe responded, "Fewer than that." The team was 50-3 in their last 53 league games while playing with Benson.
Oakland played in two locations last week — Windsor and London, Ontario. The team went 2-1 overall against Western Ontario and Windsor, which they split a two-game series with.
What Kampe learned: "
I think the key was the 10 days of practice. We have three to four freshmen that are going to have to play a major part of our season. What we were able to do is get those freshmen game minutes in the summer. They weren't very productive minutes, but I know we gave people the chance to go out and show us something. The freshmen have a ways to go for them to be good, but we're going to need them to be good for us to be good."
What or who impressed him:
Freshman forward Dante Williams, a 6-6, 170-pound guy "who played well in all three games." Kampe said Williams established himself as a player who can and should play a lot of minutes. Kampe also said Corey Petros, a 6-10, 243-pound 4 guy, made a noticeable impact. Petros is also a freshman. Those two stood out above the other young guys.
What concerned him: "
We've been a dominant inside team, and now we have to get our veteran players to trust our freshmen in there." Initially the concern was about rebounding, but the Grizzlies were dominant on the boards — despite the lower level of play.
— Despite Benson's departure, Oakland does have a player-of-the-year candidate in Reggie Hamilton, pictured above with Kampe. Hamilton actually had a better offensive rating and a factored into Oakland's offense more frequently than Benson last season. He was First Team in the Summit League last season. He scored 29 in the team's first game against Windsor.
— On the injury front, the Grizzlies do get a redshirt junior coming back. Guard Blake Cushingberry was a starter two years ago. Then, seven days prior to the start of last season he blew out his ACL. Cushingberry practiced all 10 days in August but did not play in the games due to some disciplinary issues, Kampe said.
— Other losses from last season's team include all-league player Will Hudson, who recently signed with Gold Coast Blaze, an Australian pro team, and Larry Wright, the Summit's Sixth Man of the Year.
— Kampe said despite the youth of the team, depth isn't an issue. Just the opposite, in fact. "I think our strength is that we have depth. Now, do we have talent? I won't know that until the start of the season. We've got five guys that have been a starter at Oakland or in the Big Ten." Three of those starters are perimeter guys from last year in Hamilton, who scored 25 in the NCAAs against Texas; Travis Bader, who made 93 3-pointers last season; and Drew Valentine, a junior forward who Kampe said was the most important player on the team and the best defender in the league.
— The team also has Laval Lucas-Perry, a starter at Michigan who transferred two years ago. He'll be the backup point guard and will see minutes, as well as Joey Asbury, a 6-7, 200-pound forward.
— With a small group of guys, don't be surprised to see Oakland go with a four-guard look here and there. They play the dribble-drive as is, so it can be advantageous. "We're not used to being that small, but there's a very good chance that's the route we're going to go," Kampe said.
— And the last time Kampe talked to Keith? Just before the trip. Because of the NBA lockout, Benson has been diligent in working out and honing his skills on Oakland's campus.
CBSSports.com's list of teams taking preseason trips

Photo: AP