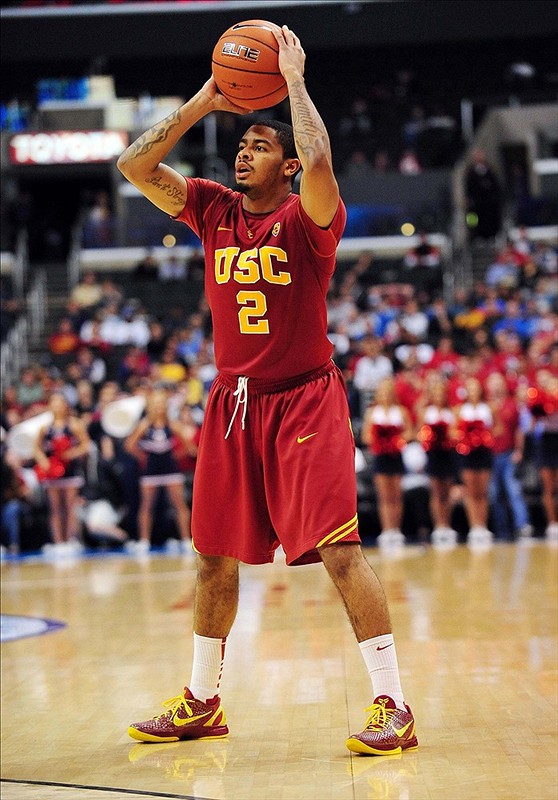 By Matt Norlander
One of the key players for USC having a successful season is Jio Fontan.
Here's to hoping his latest injury isn't anything that will linger.
The senior point guard
reportedly sprained his left knee
in an exhibition game in Brazil Tuesday. The Trojans added insult to injury by losing by 11 to Mogi das Cruzes. According to ESPNLosAngeles.com, the X-ray on the knee came back negative, which is great, but the MRI results won't be known for a few days. Fontan will undergo an MRI in Brazil Wednesday, which also happens to be a travel day for the team, as it will leave from Sao Paulo and head to Rio de Janeiro for more exhibition games Friday.
From ESPNLosAngeles.com:
"I'm always worried about any injury," coach Kevin O'Neill said by phone from Sao Paulo late Tuesday. "But we won't know anything until tomorrow."

USC was up by six at the time Fontan went out of the game, but the Trojans quickly fell behind without their captain and senior leader. Forward Aaron Fuller also missed the game with an illness, so USC was forced to play walk-on Eric Strangis extensive minutes and work newcomers Greg Allen, Alexis Moore and Byron Wesley into the rotation.
Fontan, who played his first season with the Trojans last year after transferring from Fordham, had a 25.8 assist rate in 2010-11. That's pretty solid. He averaged 10.5 points and was a 38-percent shooter from 3-point range.
Photo: US PRESSWIRE