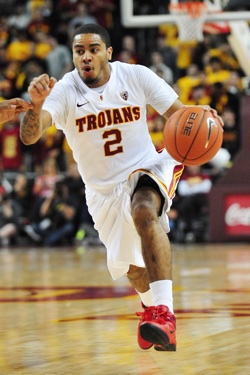 After Jio Fontan became eligible last season following his transfer from Fordham, USC went 13-10 and made a run to the NCAA tournament. The Trojans had wins over Tennessee, UCLA, Arizona, Washington, sneaking into the Big Dance as a No. 11 seed.
Head coach Kevin O'Neill was looking forward to having a full season of the 6-foot- point guard from New Jersey.
Unfortunately, Fontan will miss the entire season after an MRI on his left knee revealed a torn ACL. Baxter Holmes of the Los Angeles Times said that Fontan will have surgery on the injured knee in the next couple of days.
Fontan suffered the injury during the first half of USC's exhibition game against Mogi das Cruzes on Tuesday. Originally, X-rays were negative and USC called it a left knee sprain.
The matchup against Mogi das Cruzes was the third game of a 10-day trip to Brazil for the Trojans; Fontan had scored 57 points in the first two games. He was expected to anchor a young roster that included eight returnees. Fontan averaged 10.5 points and 3.9 assists last season, shooting nearly 38 percent from 3-point range.
In Fontan's place, sophomore Maurice Jones will need to step up in the backcourt. Jones played well before Fontan became eligible last season, scoring double-figures six times, including a 29-point performance against Santa Clara. Junior college transfers Greg Allen and Alexis Moore will be counted on to make immediate impacts.
Photo: US Presswire