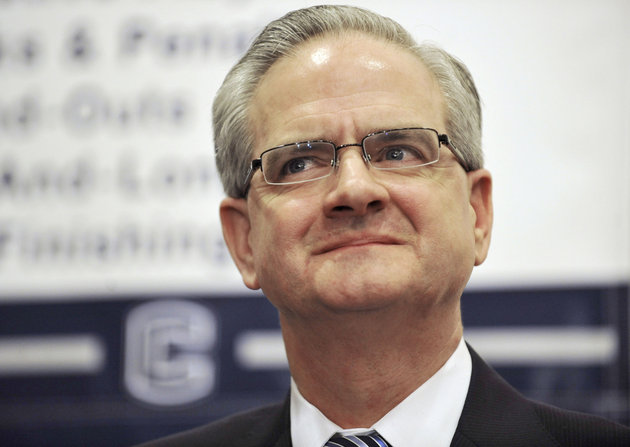 Jeff Hathaway did in fact end up "retiring" Friday, shortly after news reports surfaced that he was done at UConn.
"It has been incredibly rewarding to have collaborated with so many exceptional individuals during this proud period of academic and athletic excellence," Hathaway by way of a statement. "After 20 years of being associated with UConn, I felt the time was right for me to pursue new challenges. I wish the very best to all those associated with UConn athletics, and to this great university, now and long into the future."
A little surprised by the kind words, considering Hathaway was effectively shoved out the door? That's because his agreement to leave includes a clause that states he can't turn heel on his former employer, a school that he worked at for nearly two decades.
Hathaway's departure presents a new opportunity for UConn, but that can be addressed later. What about the NCAA? Hathaway is the chair of the 2011-12 Selection Committee. He's the guy who has to deal with media and fan scrutiny in the seconds, hours and days after the brackets are revealed for the NCAA tournament.
And now he's no longer affiliated with a member institution of the NCAA. This situation, I believe, is unprecedented. The chairman suddenly no longer working for anyone. On one hand, it's a good thing -- he'll have all the time in the world to watch as many games as possible! But on the other, you've got a somewhat-disgraced former athletic director out on the street and simultaneously being the face of your most publicly known committee.
This was the NCAA's response to this transgression, per VP of communications Bob Williams:
"Earlier today, Jeff Hathaway informed Greg Shaheen, NCAA Interim Executive Vice-President of Championships and Alliances, of this evening's announcement of his retirement from the University of Connecticut.
Mr. Hathaway is concluding the fourth of his five-year term on the NCAA Division I Men's Basketball Committee.
In the near future, our staff will work with Mr. Hathaway to determine the best approach regarding the balance of his term, including the status of his service as chair the committee during the 2011-12 academic year."
Ominous. I've put in further questions to the NCAA regarding Hathaway's status, and if there's currently any legislation that prohibits someone from participating on the Selection Committee if they're not employed by a member institution. This post will be updated when I can get a response.
Update: I have spoke with a source at the NCAA. There is a rule in place that states a non-employed member of the NCAA can't be on the Selection Committee. But the NCAA isn't quite sure how they're going to tackle this delicate situation right now, as it's never occurred before. My completely speculative guess: Hathaway won't be on your TV screen the night of Selection Sunday, 2012.
Photo: AP