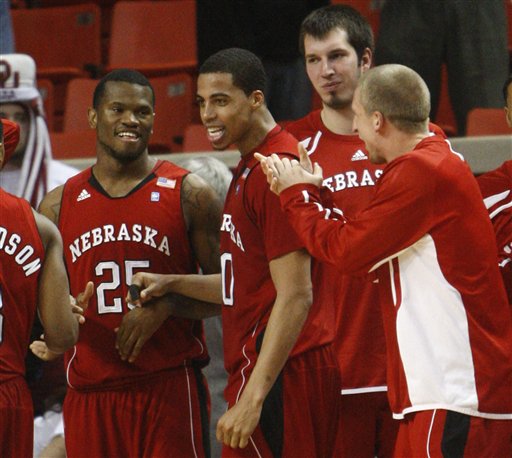 By Matt Norlander
Nebraska's move to the Big Ten
hasn't dovetailed
with an allotment of willing non-Big Ten BCS suitors.
You'd expect the Big 12's 10 teams to coldly look away if Nebraska ever had the gall to call.
But Pittsburgh, Duke, Gonzaga, North Carolina, Kentucky, Notre Dame and plenty of other programs haven't found the need, desire or room to fill Doc Sadler's team on their schedules.
The Huskers will have Southern Cal, Oregon and Wake Forest in the non-conference this season. None of those teams should vie for an NCAA tournament bid. Assistant coach Chris Croft has been at the center of scheduling, and Huskersextra.com really presented what he and Nebraska were dealing with this summer.
You've probably heard that Croft has called every BCS school inquiring about playing a nonconference series.

"Every time somebody says, 'No,' I just ask them if they would play us in the future," Croft said.

Notre Dame's response?

Not this year, not next year, not ever. Please stop calling. Thank you.

"You hate to hear that," Croft said, "but you'd rather they be up front with you."
Not ever? That's harsh. Reminds us all of when we really overshot the landing and finally built up the guts to ask out The Girl back in high school.
Right? ... Uh, right?
Scheduling is an issue for 90 percent of teams. Thing is, we mostly only hear about the mid-majors who can't get a big boy to agree to do a home-and-home or a two-for-one. That's the problem here for a BCS school, though. Take Duke. As its accustomed to doing, the program did not agree to play a return game with Nebraska. The story says Sadler would've made an exception for Duke, but Mike Krzyzewski couldn't arrange a game in time, since there was a conflict on Dec. 4.
"With their name and recognition and how good they are, we decided we'd do that," Croft said. "Our guys deserved the challenge. We were ready to roll the dice on that one."

The problem: NU had already scheduled Creighton on Dec. 4. The Bluejays, Croft said, initially weren't willing to move the date, so Nebraska said no to Duke.
It will be a vicious cycle for Nebraska, which probably won't be able to get some respectable opponents to come to Lincoln until it makes consistent runs at the NCAA tournament -- then wins a game or two in late March as well. Right now the program doesn't have the cache or a low number of enemies, it seems. Moving to the Big Ten has its repercussions. This one may linger for a few years.
Photo: AP