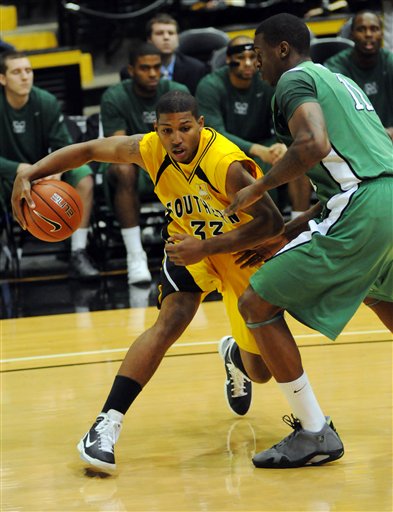 By Matt Norlander
Fittingly, the previous post to this one here at the Eye on College Basketball blog
is about Iowa State
. Its coach, Fred Hoiberg, has come to a conclusion: he can't win in the grand scheme only by recruiting players from his primary base. No -- he'll take the misfit toys, too. And that's what he's done.
Winning in a BCS conference when you're a perennial program that lingers in the basement requires some jerry-rigging. You need to be able to bring in transfers with game and a chip on their shoulder, all the while knowing they've been humbled, too. New Penn State coach Pat Chambers is already hip to that, as
it was announced Monday afternoon
that D.J. Newbill, a Southern Miss guard who averaged 9.2 points and 6.2 rebounds in his 2010-11 freshman campaign, will become a Nittany Lion. In fact, he already is; per the AP, Newbill was on campus to attend the first day of classes Monday.
Newbill isn't from a BCS conference, like what Iowa State's done with Chris Allen and Royce White, but he's still a potential difference-maker in the Big Ten two or three years from now. Per standard transfer rules, Newbill will sit out the upcoming year, then have three years of eligibility in State College.
Newbill is from Philadelphia.
"D.J. will make an immediate impact on our program with his toughness, basketball IQ and work ethic," Chambers said in a statement. "It's great to get a Philadelphia kid that is passionate about Penn State basketball and wants to be here. We are very confident he will show that a Philadelphia player can have great success and an outstanding career at Penn State."
Despite being just 6-4, Newbill led the Golden Eagles in rebounding 11 times last season. It's only Chambers' first transfer, but Penn State's long needed to become a consistent player within the league. Perhaps the new coach will try to bring in another ringer or two in the next couple of years while he recruits the kind of players that have led him to land a BCS job.
Photo: AP