In our Trippin' series, we're talking to teams as they return from preseason trips to foreign locales. Click here for all Trippin' related stories.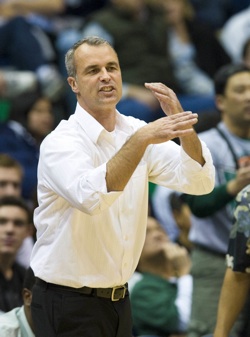 Going into his team's 15-day trip to China and Japan, Hawai'i head coach Gib Arnold knew it might be a culture shock.
And it was – the team ate bugs, cow tongue, chicken feet, duck tongue and other local delicacies.
"You name it, we ate it," Arnold said. "We didn't shy away from anything. If it was on my plate, we were eating it."
There was only one thing Arnold wouldn't eat: friend scorpion.
"It wasn't PF Chang's or Panda Express," he said. "It was the real deal."
What Arnold learned: "I was pleased with how well they got along. We only traveled with 10 guys, and over half didn't play for me last year. They really gelled. The veteran guys helped the new guys out. It wasn't just on the basketball floor; it was fun seeing those guys at the markets, trying to buy fake watches and bartering. I think that was as much fun as watching the games."
What impressed him: Freshman guard Shaq Stokes – "He was our leading scorer. You saw some real, real talent in him. He has the ability to score in bunches. He's a freshman, so he has a long way to go, but he was fun to watch."
What concerned him: Zone offense and fatigue – "We only had 10 practices, so we didn't put in a lot of plays. We ran a lot of basic motion, a lot of ball-screen action. We didn't really have a zone offense, and in the first game, the team came out and zoned us. That had to do with the amount of time before the trip, though. I was also worried about fatigue, and guys had to play a lot of minutes. By the end of our trip, our legs were pretty much gone. But we'll have Vander [Joaquim] and Zane [Johnson] back, and a couple of recruits will join us."
- Hawaii was without perhaps its two best players. Vander Joaquim, a 6-foot-10 big man, was playing with the Angola national team, while former Arizona transfer Zane Johnson was injured. Johnson turned his ankle in a pre-trip practice and wasn't able to play on it in Asia. "He's a couple weeks away from playing again," Arnold said. "We were being pretty cautious with him. We need him more during the season than we did on the trip."
- Junior college transfer Hauns Brereton was impressive on the trip, according to Arnold. Brereton averaged 20 points and seven rebounds at Western Nebraska Community College, racking up about 25 scholarship offers before choosing Hawaii in mid-April.
- Former USC transfer Davis Rozitis, who hasn't played in nearly two years, got back on the court. The 7-footer held his own. "It was real good for him just to play games again," Arnold said. "It was good to see his progress."
- Bobby Miles, Trevor Wiseman and Joston Thomas stood out among the returnees. "They knew what I expected of them and they delivered," Arnold said.
- Hawaii picked up former Nebraska transfer Christian Standhardinger earlier this week. Two things helped the Rainbow Warriors' recruitment of Standhardinger: assistant coach Walter Roese coached Standhardinger at Nebraska, and Arnold speaks fluent German. "I don't know if that helped us, but I was able to talk to his mom in German," Arnold said.
- Arnold expects basketball in China to explode in the next few years. "The amount of basketball being played – there's hundreds and hundreds of basketball courts," he said. "The number of kids playing it. China's going to become a major, major power in basketball."
CBSSports.com's list of teams taking preseason trips
Photo: US Presswire