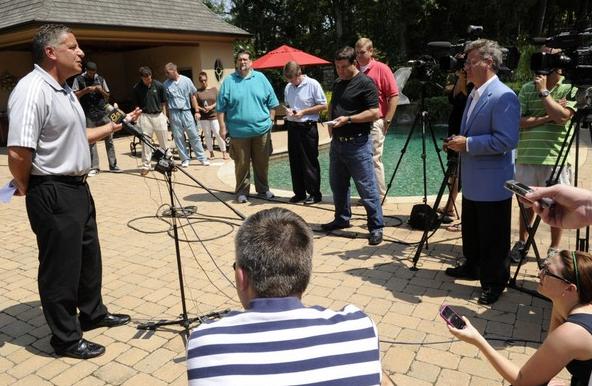 By Matt Norlander
If you couldn't decipher it from that dripping-with-symbolism photo, Bruce Pearl is on a massive media tour in the wake of his three-year show-cause ruling.
I guess it's high time he get out in front of the people and explain himself, give the press that reaction we've just gotta have. He's taking questions from everyone about everything: jobs on the horizon; his mistakes; his lies; his regrets; Tennessee basketball; Pat Summitt. Whatever it has to do with Bruce, Bruce is available to speak with you.
You'd almost think he was retiring. Maybe he is and we just don't know it yet.
In an act of irony that was so heavy-handed I'm not sure how it happened without a laugh track constantly playing behind it, Pearl hosted a barbecue for the media yesterday at the house he's currently forced to sell because he was busted for hosting recruits there -- during a barbecue.
Read that graf again and swirl away into the nexus of the universe.
All these interviews and Pearl, now, has the answers. If I had him on the line, I'd ask just one question, though: Bruce,
what the hell are you doing
? I'd follow that up with, Why are you talking every hour of the day to anyone with a microphone or notepad? Do you realize some of the things you've said lack self-awareness and embody the opposite of the point you're trying to get across? The best quote I could dig up from Pearl's recent media blitz came from his Friday morning appearance on the "Dan Patrick Show."
"Right now I don't want to distract from the game," Pearl said without a hint of the irony and hypocrisy that's sweating from that sentence. He followed that up with, "Right now I don't want to be the story."
Then, I ask again, what the hell are you doing, Bruce? Because you know damn well you're making yourself the story right now. Do you want to set the record straight? No need -- we know all the details. None of this media tour really means anything. The words you've used in the past 24 hours do not have a shelf life in regard to your future in college basketball. What you say now isn't going to alter your legacy or reputation, no matter what job you land at in the coming weeks. (Pearl also admitted the three-year show-cause has had "a bit of an effect" on his decision whether or not to coach in the D-League.)
Maybe that's a good thing, too, because there's a particular word Pearl is using that is making him look terrible: we. We, we, we. That's what he keeps going back to. Him and his staff. We. His assistants were also guilty, but he's throwing those guys -- who are working at high schools and low-level, non-DI colleges, who have no possible cushy future talking on television -- under the bus right now.
Pearl is the face of this violation
, and he did his former assistants pretty sour
on Doug Gottlieb's radio show Thursday night
. (Transcribing more quotes would take up too much space here; just listen and be wowed by how badly Pearl comes off.) Take the hit, Bruce, because your former assistants will have it much tougher than you will trying to get back into the business.
On Friday morning, Pearl continued to talk out of both ends of his mouth.
"Making the penalties tough, and tougher, is the right thing to do," Pearl said on the Dan Patrick Show. "Let me stand as an example as to what happens to you when you break the rules." OK, fine. It's a go-to concession that's easy to own up to after punishments have been levied and things can't be undone, but whatever.
Yet minutes later Pearl added he doesn't consider himself a cheater -- or a liar.
"I think there's a big difference between being a liar and being a cheater," he said.
What?
"I don't agree with some of their findings," Pearl added. "I called John Craft the day I was interviewed to find out if he knew anything about this picture that I was about to see. I didn't know anything about it; I was completely caught off guard. I should not have called him because it does give the impression that I was trying to tamper with the investigation."
I've spoken off the record with a few people who have a lot of knowledge about the ins and outs of this case. I'm inclined to believe there is at least one more Bruce Pearl lie embedded in the quote above. I've clearly underestimated Pearl's affection for the media and for hearing himself talk. Maybe this is how he truly comes to terms with his three-year NCAA sentence. But he couldn't look much worse in the process of this self-appointed healing session he's so desperate to have everyone listen to.
Photo via Amy Smotherman