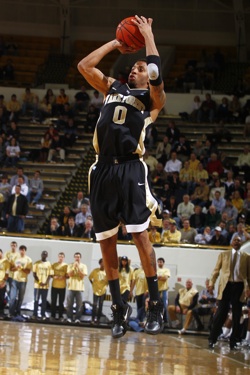 It keeps getting worse for Wake Forest.
Three days after Ty Walker was ruled ineligible for the first semester after violating the student conduct code, the Demon Deacons suffered another blow.
J.T. Terrell, a sophomore guard and the team's second-leading scorer, is withdrawing from the University and leaving the basketball team after being arrested for DWI on Saturday.
"Due to circumstances surrounding his arrest, along with other recent indicators, it is obvious to J.T. and his family that J.T. suffers from a serious medical condition which requires immediate attention," Mike Grace, Terrell's attorney, said in a statement.
Terrell ranked second on the team in scoring last season, averaging 11.1 points per game. The sophomore guard from Burlington, N.C. started 18 games and shot nearly 36 percent from 3-point range.
"We wish J.T. well as he seeks to turn his life around," head coach Jeff Bzdelik said. "He is at an important crossroads in his life and needs to devote his full attention to recovering."
Terrell expressed regret for his actions in a statement.
"I ask for your prayers and best wishes as I undertake the task of rebuilding my life over the next few months," he said. "With your continued support, I hope to one day both complete my college education and play basketball at some level."
Wake Forest went just 1-15 in the ACC last season, struggling to an 8-24 overall record. In addition to the departure of Terrell and ineligibility of Walker, the Demon Deacons have also lost double-figure scorer Gary Clark to graduation and starting forward Ari Stewart to a transfer. Leading scorer and rebounder Travis McKie returns, as well as point guard C.J. Harris, but the rest of the roster is thin.
Sophomores Tony Chennault and Carson Desrosiers will be counted on to step up and produce, while former Georgetown transfer Nikita Mescheriakov will also likely start.

Photo: US Presswire