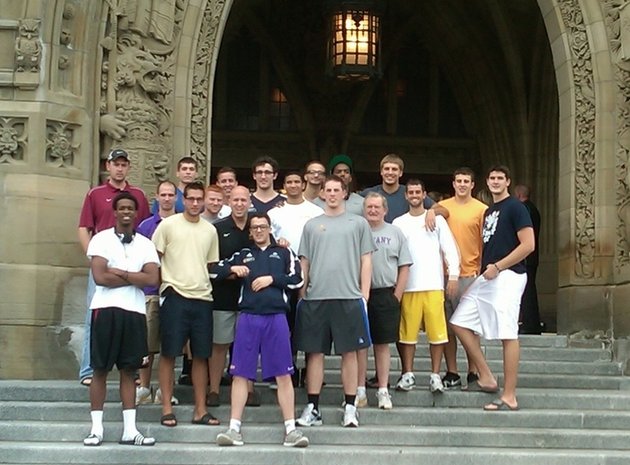 In our Trippin' series, we're talking to teams as they return from preseason trips to foreign locales. Click here for all Trippin' related stories.

First things first: Longtime Albany head coach Will Brown was thrilled he was getting a call from me, and not Goodman.
"I got the A team writing about us," he said with an enthusiasm that nearly matched the thrill he must have had upon making the NCAA tournament in 2006.
You know it. And above anything else he shared with me, he wanted it in the post that he was delighted Goodman wasn't taking up his time with a phone call. So I'm coming through on a promise here.
Now, to business. UAlbany took its summer trip to Ottawa and Montreal at the end of August. The team averaged 89 points per game playing "pretty good" competition, going 4-1 against the University of Quebec at Montreal; McGill University, in Montreal; lost its third game to an all-star team of European pros; defeated the University of Ottawa; and won over Carleton, who has won six of the last seven Canadian University national titles.
Brown, who can talk with the best of them, was positive about the trip (so few coaches actually admit to feeling down about these, though), but said there was some concern because the team played without its starting frontcourt, due to injuries. Six-foot, 8-inch Luke Devlin is one of the hampered. He had a nerve issue in his back that required surgery earlier this year. The 6-8 Australian will be key for Albany this year, as the group will often go to a four-guard look. The other player coming back to the team is 6-11 John Puk, who is overcoming Achilles tendinosis. Both men will have their first on-court individual workout on Friday, contact and all.
"It's nothing to worry about — we just don't want to work them too much too soon," Brown said, adding that Puk's been out of his walking boot for a month. Brown expects both to be ready for the start of the season, 100 percent.
What Brown learned: "Our new guys are pretty darned good, and that the group is unselfish. If this team has any interest in defending and rebounding, we've got a good chance to win the league. And as good as Mike Black is, there is another player who can play the point."
Who impressed him: The new guy Brown was alluding to is Peter Hooley, a 6-4 freshman. Black actually got knocked out of the third game with a concussion and didn't play the rest of the trip. Hooley, a known scorer, stepped in at the point in games four and five and put up a combined 44 points. In the team's final game, Hooley had seven assists and zero turnovers against Carleton. The other freshman who stood out: Gerardo Suero, who was hurt most of the summer. Suero averaged 19 points per game in 19 minutes. He also got to the free throw line 32 times in five games and averaged five rebounds.
What concerned him: The low-post defense and the glass were issues, but the team was without Puk and Devlin, so Brown shrugged some of that off. His primary other concern right now is health. Brown's hoping this team isn't cursed. You've seen the injuries listed above. On top of that, Jacob Iati didn't play the final three games after he took a shot to the ribs. They're not broken, but very bruised, and that can sometimes be worse.
--Brown tried to start seven guys when I asked for five. After some pushing, he narrowed it down: Black (an all-conference player last season), junior Logan Aronhalt, Devlin, Puk, and he'd give the nod, right now, to Suero due to his potent offensive ability.
--The Great Danes have no seniors this season.
--The team went small, and it could even go five guards at points this year. Brown's liking the look that much, and if some teams aren't big, he's not concerned about post plays.
"We've always been big and physical and found ways to score, and now we have to play differently based on the personnel available."
Photo via Albany athletics is of the team in front of Ottawa Parliament