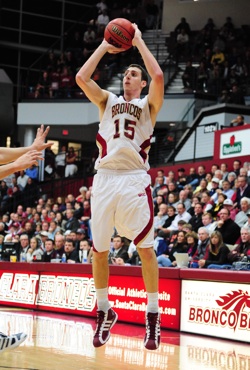 Santa Clara was hoping to contend with Gonzaga and Saint Mary's at the top of the West Coast Conference this season, but those hopes were dealt a blow on Wednesday.
Marc Trasolini, the team's second-leading scorer and top rebounder, tore his ACL during the first game of the Broncos' foreign trip to Canada. The injury happened fewer than two minutes into the game, when Trasolini came down on his leg following a shot.
"He is our only senior and we brought him home for this trip," assistant coach Dustin Kerns told CBSSports.com late Wednesday night. "In front of his entire family and friends in his hometown. Made it even tougher."
Santa Clara chose Vancouver as its preseason tour destination because of Trasolini – the 6-foot-9 forward graduated from Vancouver College High School in 2008 and is a native of the city.
"Obviously I am really disappointed by what happened last night," Trasolini said in a statement. "It's pretty bad it happened here on this trip, but it's worse I can't play this season. It hurts. It hurts a lot."

The team went to Trasolini's house for dinner on Wednesday night following the injury, and Kerns said Trasolini's spirits are still high despite the injury.

"I think he is over the initial shock," Kerns said. "He's been working his brains out ever since last season ended, so [it was] painful for him to accept at first.

"He's doing well. Our team really lifted him up tonight."
Trasolini averaged 12.8 points and 6.1 rebounds last season, shooting better than 52 percent from the field. Combined with the return of prolific scorer Kevin Foster (20.2 ppg) and versatile sophomore Evan Roquemore, the Broncos had one of the better trios in the league.
With those three leading the way, Santa Clara won the CIT Tournament last season and had plans for a different tournament in 2011-12.
"We have a high character group so we will keep plugging away," Kerns said. "We have time to figure it out, but it's a big loss."
Photo: US Presswire