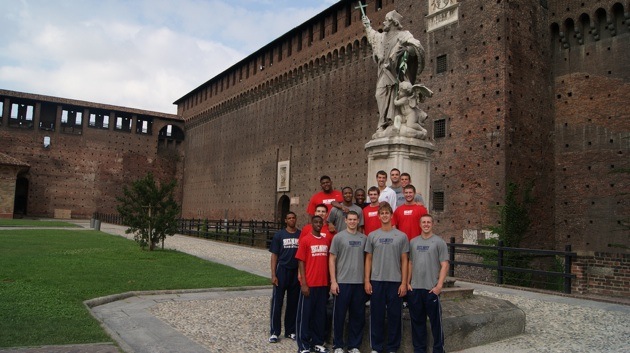 In our Trippin' series, we're talking to teams as they return from preseason trips to foreign locales. Click here for all Trippin' related stories.
Only nine teams won at least 30 games last season.
Easily the most surprising of that group was Belmont, which rolled through the Atlantic Sun at a 19-1 clip en route to a 30-5 overall record. With four starters back, the Bruins could be even better.
To some, though, a potential worry could be the team becomes complacent and no longer has the same motivation. On the Bruins' trip to Italy in August, head coach Rick Byrd was pleased with what he saw.
"Our biggest concern is we can't lose the edge that we had and held throughout last season," Byrd said. "There was not a game that our guys weren't ready to play and weren't excited about playing. There wasn't a drop-off. The things that made us good a year ago were still there, in terms of attitude and unselfishness. We saw those same characteristics."
That should be scary to the rest of the conference – and country.
What Byrd learned: "We need to play with more discipline on both ends of the floor. We played with almost too much emotion; we needed to back off and be a little more solid. We were trying to make things happen, and some of that, offensively, is the 24-second shot clock. It doesn't give us time to run a motion offense and make things happen. You've got to make adjustments, just like you do during the season."
What impressed him: Motivation – "I was really pleased from the first practice on about the enthusiasm, energy and work ethic. That was the most positive thing our staff saw – there was no drop off."
What concerned him: Conditioning – "It's no different than playing games one week into practice. I think conditioning accounts for a lot of the mistakes that you make. It's just very hard to get into game condition in a short period of time. We found that when we were tired, we made mistakes. We have to fight through fatigue better. We can talk about the Italy trip all year long: how loose we played in Italy when we played tired, now we have get in better shape and fight through it."
- J.J. Mann, who was a member of the all-freshman team last season, impressed Byrd on the trip. "He stood out here in practice and in the games over there," Byrd said. Mann came off the bench a year ago, averaging 6.0 points.
- What separates Belmont from most mid-major teams is its inside duo of Mick Hedgepeth and Scott Saunders. Both players earned second-team all-conference honors last season, and Byrd pointed to them as two players who continued their stellar play.
- If Byrd could have planned when he took a trip, he likely would have taken it with a younger team. This year's group has three seniors and five juniors, including seven players with starting experience. "We only had one guy on the trip that was an incoming freshman," Byrd said.
- The team had quite the voyage around Italy, going to Florence, Rome, Milan, Pisa, Lake Como, Lucca, Siena, Bellagio and other cities. Byrd planned it that way, wanting to play only three games while there. "It was much less about basketball than about the whole the trip," he said.
- The whole team took guided tours of the Colosseum, the Sistine Chapel, the Vatican, St. Peter's Basillica and the Leaning Tower of Pisa.