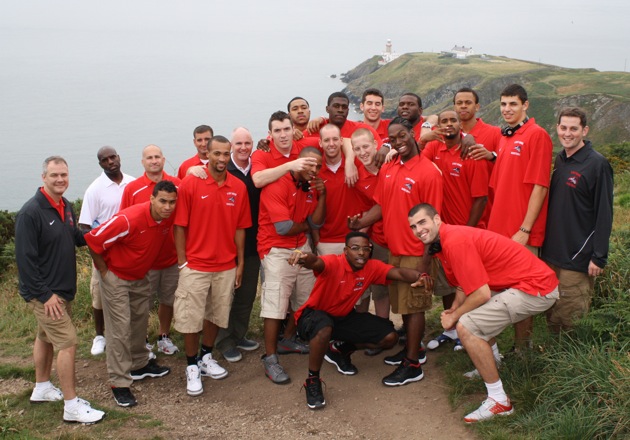 In our Trippin' series, we're talking to teams as they return from preseason trips to foreign locales. Click here for all Trippin' related stories.
It was the last day of Stony Brook's three-city Europe trip, and the team was standing outside the Louvre in Paris.
Looking to get one last memory overseas, the Seawolves saw a ride that essentially shot you into the air until you were almost out of sight to the people on the ground. At first, everyone on the team wanted to do it.
Sophomores Dave Coley and Anthony Mayo were the first to go (video below).
"The guys wanted to show how tough they were," head coach Steve Pikiell said. "So two guys step up first, they get sprung up in the air. This thing bounces you a million feet in the air, players were going, 'Oh my God.' None of our players wanted to get on the ride after that."
Overall, the trip to Dublin, London and Paris was a success, both on and off the court.
"It was as good a trip as you can have," Pikiell said.
What Pikiell learned: "You learn about your newcomers. We have two newcomers, and one, Ron Bracey, led us in scoring and was second in rebounds. You learn how your players improve from one year to the next. It got Tommy Brenton back into playing real games because he hadn't played one in a year. I think that was a real positive for us. There was some things we needed to work on, but now we're ahead of the game a bit."
What impressed him: Depth – "Our depth. We have a lot of guys, and I always look at it as a pro. Our guys are going to fight for minutes, and I think that's a positive. In the past, we had about seven guys. Our guys know they have to work. I played everyone, and it was still hard to get minutes."
What concerned him: Health – "My biggest concern is injuries. Chris Martin was one of my best guards, and he missed 19 games last year. Tommy Brenton was my best player; he missed the entire season. Marcus Rouse, missed seven games with a knee injury. Dave Coley missed six games. Coming off that trip, I'm very concerned about injuries."
- Pikiell said he is leaning on seniors Dallas Joyner and Bryan Dougher as leaders for the upcoming season. "You see who's leading your team when you go into a museum or something," he said. "We had pretty good leadership, and that's something I didn't talk about before the trip."
- While Ron Bracey led the newcomers, 6-foot-9 freshman forward Scott King was no slouch. "He can really shoot the ball," Pikiell said.
- Brenton, who missed all of last season with a knee injury, was back to his old self after shaking off the rust. He led the team in rebounding, steals, assists, field-goal percentage and also took the most charges. "He does a lot of things for us," Pikiell said. "He's very valuable to us."
- In the five games over there – in which Stony Brook went 4-1 – the Seawolves had five different leading scorers. Marcus Rouse went 10-for-10 one game and scored 21 points; Lenny Hayes, Bracey and Dougher also paced the Seawolves in scoring for a game. On the defensive side, Pikiell highlighted Dave Coley as one a player who stood out.
- Senior forwards Danny Carter and Dallas Joyner look ready to take a step forward this season. Joyner was an effective scorer, while Carter shot 56 percent from 3-point range.
CBSSports.com's list of teams taking preseason trips
Photo: Stony Brook Athletics