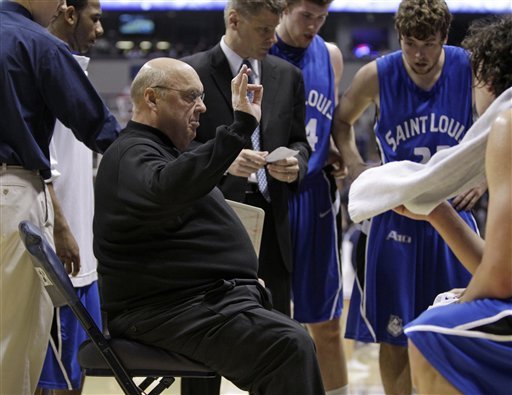 By Jeff Goodman
Rick Majerus went and sat in the bleachers.
The doctors advised the Saint Louis head coach, who had a stent inserted back in early August, not to coach on the team's recent trip to Canada. Jim Whitesell replaced Majerus on the sidelines, which wasn't easy for the veteran, outspoken head coach. "There was no positive with having to sit in the bleachers and not be able to coach," he said.
The team, which continues to battle injuries, went 3-2 on the trip.
What Majerus learned
: "We've probably got to be more restricted with some of the players and what we enable some of them to do, playing to their strengths. I'm used to an eight-man rotation, but I may wind up going with a nine-man rotation this year."
Who stood out
: "I can't really say that one player stood out; that would be erroneous."
What concerns him
: "Our health and after that, it's our total commitment to defense. We seem to have one guy breaking down."
-- Kwamain Mitchell, who was suspended all of last season, played well in the first four games before suffering a back injury which required X-Rays and an MRI. Majerus said he's hopeful that Mitchell, who wasn't on campus for the first semester a year ago and didn't practice the entire season, is finally healthy enough to return to workouts today.
-- With Mitchell back in the fold, look for the point guard spot to be split between he and Mike McCall, the sophomore guard who led the team in scoring a year ago as a freshman.
-- Senior guard Kyle Cassity didn't play on the trip due to a bone fracture.
-- Junior forward Cody Ellis needed stitches over the weekend following an off-court incident. Majerus didn't know all the specifics, but said he was informed it involved jumping over a fence. "Doing what kids do," he said.
-- Sophomore guard Jordair Jett also missed the final game after hyper-extending his knee.
-- Freshman Grandy Glaze only practiced twice and played sparingly on the trip.
-- Majerus was raving about the future of 6-foot-11 freshman John Manning. "He has great hands and is very bright - both in the classroom and on the court. He's not afraid of contact. In fact, he embraces contact. He catches everything and has nice touch."
-- The NCAA didn't allow freshman guard Emmanuel Tselentakis to practice or go on the trip. However, Majerus said he is eligible to play this year.
-- This will be the first season since taking over the program that Majerus will have the full allotment of 13 scholarship players.
Photo: AP