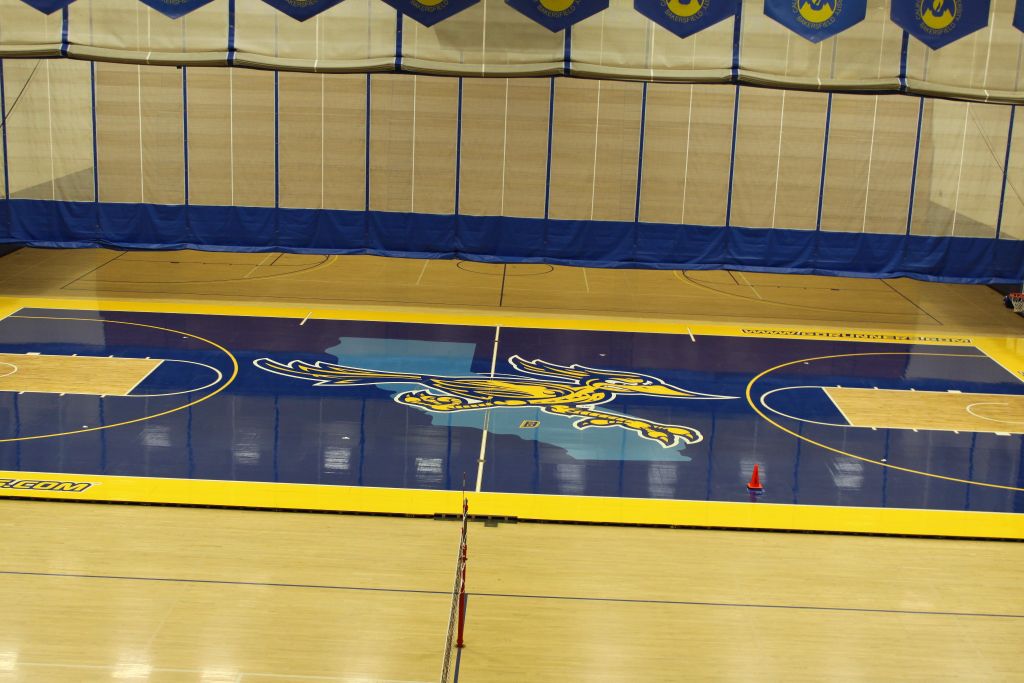 By Matt Norlander
It's a race to see who can blog about this first, I suppose, and who really cares who's won. So much of what drives not just sports posts, but blogs in general, is aesthetics. And any time a team steps outside the box and, ironically nowadays, dips, unintended, headfirst back into it, we're going to spread the word.
Uniforms are the topic du jour, but anything that's got a glitz that flies in the face of convention is easy pickings for us lurching over our laptops, eager for anything that will feed us in the desperate, sometimes desert-dry climate of the offseason. You dolly up your court and I can almost guarantee you I'm going to give you love here in our little corner of the Interwebs.
So take a look at the new woodwork Cal State Bakersfield has gone with. Inspired by its team colors and Boise State's turf alike I'm sure, the blue court is the first of its kind in the modern era at the D-I level. It could be the first of its kind in general; I just don't have the heart to fat check that. It does sort of bring to mind the
Houston Rockets' atrocious hardwood
at the end of the last millennium. The creator of that design had to be catalyzed by substances not found at a CVS.
Now, does this start the next trend? Which schools can and will color code and color coat their maple in the coming few years? Cal State Bakersfield has done the right thing. I advocate this thinking, particularly at smaller levels, because any press is needed press. There are 340 teams to compete with. Most small-conference teams' subsistence is fable outside their city limits. What conference is Cal State Bakersfield in? Think about it. Right. None. They are an independent, only four years weak at the D-I level, yet to record a double-digit win season. But they'll get there. This is the first flicker of their existence on college basketball's map. It's a good idea, and I really love the Roadrunners' court, truth be told.
The school
has already gotten a major sponsorship
out of this as well. Bakersfield will unveil its floor in the first regular-season game this fall on Nov. 19 against Pepperdine.