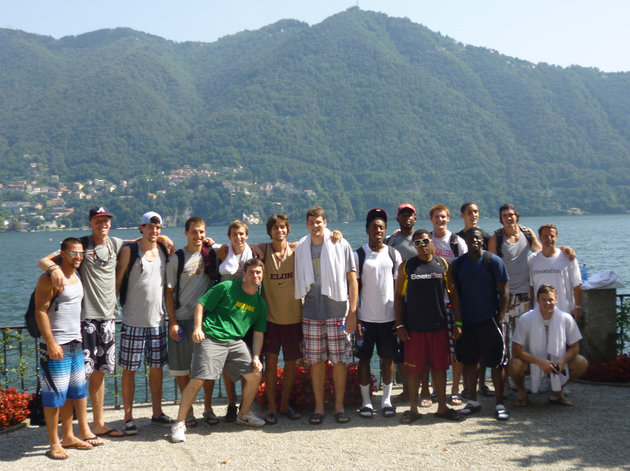 In our Trippin' series, we're talking to teams as they return from preseason trips to foreign locales. Click here for all Trippin' related stories.

By Matt Norlander
I can't deny: Elon is the only team whose summer trip I'm downright jealous of. The school went all out, opting to take in some of the most beautiful sights Europe has to offer. I talked with Phoenix head coach Matt Matheny about it. He was still glowing from it all. Austria, Germany, Italy. Water taxis and luxury boats. High in the mountains and low on the gorgeous lakes.
He said the most vivid, lasting memory from the trip came on the team's final day, when they took a bus trip up to the Alps, to Lake Como.
"It's one of the most beautiful places in the world," he said. The group docked on a boat in Bellagio. They cruised past George Clooney's house. Yes, Clooney has a house on Lake Como, of course. The two-hour boat ride ended with a trip to Milan. The team went into the center of the city and took a view of Da Vinci's Last Supper painting at the Santa Maria delle Grazie. After that, the players wanted to see a soccer game, so they saw AC Milan vs. Juventus.
"Matt, it was breathtaking, and what a way to wrap up our trip," Matheny, 41, said. How much do you hate him right now, by the way?
As for hoops, the team played two games in the greater Munich area, then traveled to Austria and Venice, as well as Milan, as mentioned above. The team, which was 14-17 last year, went 2-2.
What Matheny learned: "We're really young, we knew that, and one of the things we need more than anything is leadership. We got great leadership not only from Drew Spradlin, our only senior, but our junior class was very good. The basketball part of our trip was good, I wouldn't say it was extraordinary, but it was good. We're ahead of where we would be [without a trip]."
Who impressed him: Spradlin, and for reasons beyond said leadership. Matheny said Spradlin had never played as consistently well in games before like he showed on the trip. That's gotta mean something, since Spradlin's the team's leading scorer.
"He defended as well as he's defended in his career, and he got our players in the right spots," Matheny said.
Sebastian Koch, originally from Munich, was the other standout. That was nice for the team to see, since the two games in Munich were a bit of a homecoming for him.
What concerned him: "We have to be better defensively as a team, and I knew that from our previous two seasons. It's clear we got a head start with the trip." The two losses the team had were close, and Matheny said the youthfulness and inexperience reared its head. There were late turnovers. "The trip was good in that it put us in those situations, but it's a bit concerning as a coach that we didn't succeed in those situations."
-- This team is completely health, Matheny said, and everyone got to take the trip. No left-behinds due to academic issues or anything.
-- I laid out Matheny's team's weaknesses from last year to him. They were miserable defensively, allowing teams to make 3s and field goals in general at dangerously potent rates. He didn't run from it. I asked if he was truly confident, right now, that his team could shed that bad defensive habits. Great quote here:
"I'm not confident," he said, flatly. "That is a major concern or the improvement of our program. We have to defend, in general, better. Our mission as a team and as a program is to elevate Elon. That's what we talk about whether we're in the weight room, individual workouts. In order for us to elevate Elon, we've got to defend better."
-- A lot of that defense and rebounding will fall on the shoulders of sophomore Lucas Troutman. He's the biggest player on the team, at 6-10. Troutman's going to need to have a big year, it seems.
-- A reason to believe Elon can get above .500 this season: More than 50 percent of the team's minutes last year were freshmen minutes. "We were gangly, weakly young players," Matheny said.
-- If he had to put a starting five on the floor tonight: Spradlin, sophomore Jack Isenbarger at the 2, 6-7 sophomore Ryley Beaumont at the 3, Troutman and Koch in the paint. Starting five could very well look different by the time the season starts, though.
"One of the best things about our program now is we are much more competitive about playing time," Matheny said.
Photo via Elon athletics