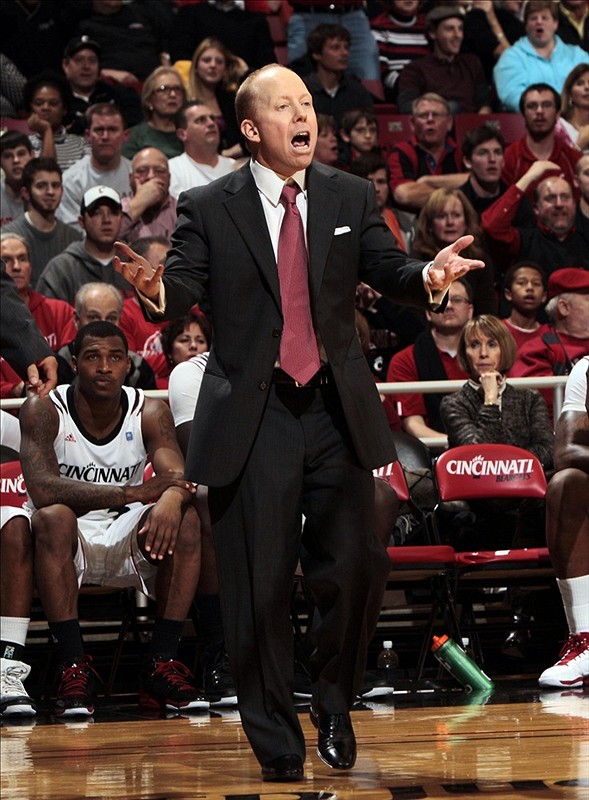 By Matt Norlander
This post isn't spawned by news; rather, by stewing. Cincinnati's out-of-conference schedule was released more than two months ago. I've been sitting on thoughts about it for a good while now. And if I
attack UConn
and
Northwestern
over their lackadaisical, somewhat-gutless scheduling, I have to put the Bearcats on trial, too.
I just don't get it. The team should be
good
this season. Top-25 worthy, even. After reaching the NCAA tournament last year, Mick Cronin accomplished something a lot of people -- yours truly included -- didn't think was going to happen.
Yet coming off that year, this is what Cronin assembles for his group?
Nov. 1 vs. McGill University
Nov. 8 vs. Northern Kentucky
Nov. 13 vs. Alabama State
Nov. 15 vs. Jacksonville State
Nov. 19 vs. Presbyterian
Nov. 21 vs. Northwestern State
Nov. 25 vs. Marshall
Nov. 29 vs. Miami (Ohio)
Dec. 2 at Georgia
Dec. 10 at Xavier
Dec. 14 at Wright State
Dec. 17 vs. Radford
Dec. 21 vs. Arkansas-Pine Bluff
Dec. 23 vs. Chicago State
Dec. 29 vs. Oklahoma
The only major-conference opponents are Georgia and Oklahoma, two teams that, I'm out on a limb here and calling it now, will have a hard time making the NCAA tournament in 2012. Xavier's a great game, but it's a rivalry game; it's baked into the schedule each year, so Cronin gets no credit for organizing it.
One of the things I love about college basketball is seeing programs at any level rise up from what they once were and succeed. Schools that do this usually schedule with a lot of ambition, consequences be damned. Others get timid and line up weaklings throughout November and December. Cincinnati's done that again.
Last year's schedule
was just as weak
. Now, you can see where Cronin could be coming from. Line up the patsies, bank on winning most, if not all of the games, then tread water in the toughest conference in the country and hope the formula at the end of the season lands you into the 68-team tournament. They did it last year and got in with room to spare. If that's the method, it can and has worked for clubs before. But it's also backfired. We've seen plenty of teams approach their seasons with this philosophy, only to either stumble too frequently against bad teams (therefore putting themselves under the gun by the time conference play starts), or they don't get challenged enough in the non-con and can't take the punches against the league in January and February.
Cronin's done a disservice to his talented team that, while it will get a great intra-conference slate, really won't feel the adrenaline rush hit until after New Year's. I'd love to get an explanation as to why it had to be laid out like this, but reaching Cronin on this issue has been fruitless as of late.
Photo: US PRESSWIRE