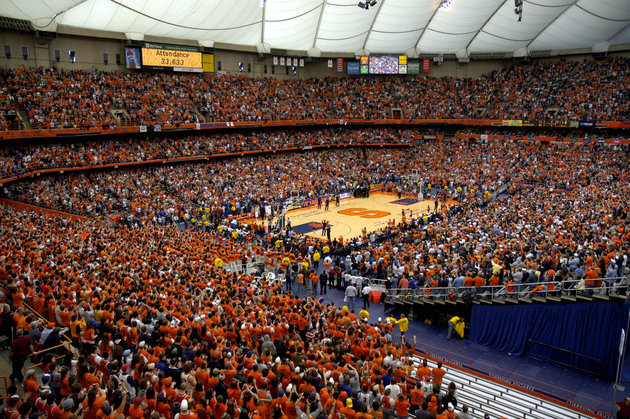 By Gary Parrish
You don't
apply for membership to the ACC
unless you already know you'll be accepted.
So this is happening.
Syracuse and Pittsburgh -- two of the Big East's most important members -- are heading to the land of Duke and North Carolina, and though I'm not certain what it does for the ACC in football other than ensure commissioner John Swofford will run what's on track to be the first so-called super conference, the basketball aspect of this is exciting.
The ACC was already arguably the nation's best basketball conference.
Now it won't even be debatable.
The league is about to add two perennial and rock-solid top-25 programs .
Mike Krzyzewski and Jim Boeheim are the active leaders in victories.
Now they'll be fighting for the same league championship.
That's a cool future for the ACC.
Meantime, where the Big East goes from here is anybody's guess.
One option might be to try to pluck Kansas and Kansas State from the Big 12 to get to nine all-sports members (once TCU is added), but West Virginia could still, at some point, leave for the SEC, and Rutgers is always an option for the Big Ten. In other words, the Big East is just as vulnerable as the Big 12. One of the leagues might survive, at best. But the most likely scenario has leftover members from both leagues merging to form something that's a geographical mess and notch below a soon-to-be-enhanced SEC, Big Ten, ACC and Pac-12.
"Whatever happens, we'll have to adjust to it," Syracuse coach Jim Boeheim told CBSSports.com by phone on Saturday. "I'm not commenting on Syracuse to the ACC, but in general I'm saying that I don't see how it's a good thing to have all these huge conferences. But I may be wrong. That's my opinion -- and I'm old. ... [But] some day we'll get to 16-team leagues and everybody may look back on it and say it wasn't such a great idea."
Most agree with Boeheim because there's a chance this makes everybody more money at the cost of happiness.
Traditional powers will have a tougher time winning league titles.
Traditional losers will have a tougher time breaking through.
Traditional rivalries will be sacrificed.
But complaining about those things is like sitting around and complaining about how children don't play outside anymore. Or how our country would be better without fast-food chains on every corner. Or how the BCS ruins college football's postseason. Like it or not, these are the times in which we live. Super conferences are coming, and Swofford should be credited for being proactive in this eat-or-be-eaten world. He's on the verge of poaching two of the Big East's all-sports schools and ensuring the ACC survives this grand shift in the landscape of college athletics, and by doing so he's seriously enhanced the basketball side of his conference.
Yes, I know, basketball isn't what's dictating any of these proposed moves.
But that doesn't mean basketball won't be affected.
Or, in the ACC's case, vastly improved.
Photo: AP