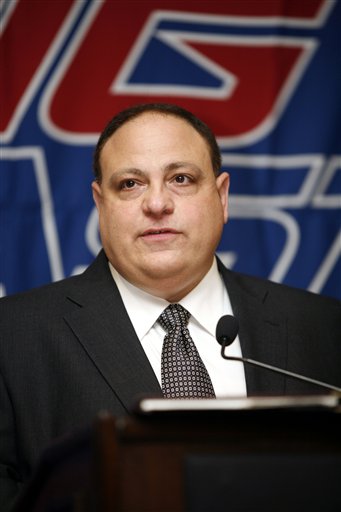 By Matt Norlander
I don't know if John Marinatto really knows what he's doing in running the Big East, but at least I know the man can trash talk.
In discussing the conference's future with Pete Thamel of the
New York Times
,
Marinatto let off this frustrated grenade blast
toward ACC commissioner John Swofford.
"We have a track record of coming out stronger than we did before," Marinatto said, referring the A.C.C.'s raid of three Big East teams in 2003. "We may even hold the opening round of our basketball tournament in Greensboro," a frequent site of the A.C.C. tournament, he said in jest.
Look at Marinatto showing some cojones! We're now in an era of college sports that's occupied by stodgy suits intently focused on crafting vanilla press releasing and doling out patronizing quotes left and right. So to see Marinatto let some steam off like that, it doesn't get much more genuine or acidic. This shot at the ACC was inspired because Swofford opined on the possibility of the ACC one day playing its postseason tournament at the Garden during Sunday's news teleconference, when Syracuse and Pitt were officially declared accepted members of the ACC.
The Big East cherishes the building; it's played its tournament there for the past 28 years -- all but three years of its existence. Boston College athletic director Gene DeFilippo has also gotten in on the ACC-at-MSG talk as of late.
Take our teams but not our party house, the Big East says. Understandable, but also interesting to see the fight that could develop around Madison Square Garden's availability in early March each year. As it stands, the Big East is inked to play its postseason bracket out in the Garden through 2016. The ACC is contracted in Greensboro until 2015.
By the way, the
Barclays Center in Brooklyn
opens a year from now. Another option for either conference in a spanking-new building surrounded by the finest hipsters the world has to offer.
The other outspoken voice -- perhaps the most outspoken in this melodrama of movement -- is former Big East commish Mike Tranghese.
Tranghese was far more vocal in his displeasure with Swofford's and DeFilippo's mentioning playing in the Garden, especially because the comments came immediately after the death of Dave Gavitt, the Big East's founder.

"I find it very disrespectful, and I'm offended by it," Tranghese said. "It hurts me beyond disbelief. Dave helped both John and Gene through their years."

He added about the notion of the A.C.C. tournament in New York, "I can sure tell you that I won't be there watching it."
Marinatto also wants to make schools who choose to leave linger as long as possible. That means, as of now, Syracuse and Pittsburgh will need to abide by the 27-month waiting period before they can officially leave for the ACC. This seems unlikely to happen, as the Big East, should it survive (and I believe that it will), will want to get its replacements into the conference as soon as possible.
Can't have it both ways, so it's most likely going to be that Syracuse and Pitt play, at most, two more seasons in the league. Could be just one, though. Marinatto also told Thamel the conference has been courted by multiple schools. The Big East and Big 12 are currently doing more than playing footsie; a massive meld of the two leagues is becoming more imminent by the day.
"We may look different, but we will be better," he told the
Times
.
Photo: AP