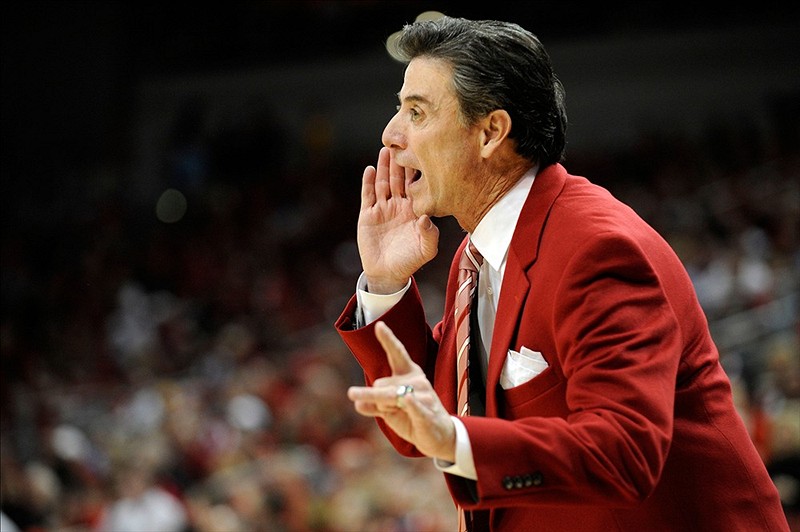 By Matt Norlander
I don't have many issues with Rick Pitino spending his free time blogging, but one of them is certainly his insistence on using the PR-smelling "BIG EAST" capitalization approximately 15 times per post. The other is the outdated use of auto-play music on his site. You remove those two distractions from RickPitino.com, and his message gets even louder and more genuine.
Pitino's a pleasure to read. He's challenging convention and remains to be the outspoken guy he's always been. Some like him, many don't, but he's always going to talk. Why confine it to a microphone or camera during the season? Pitino's got thoughts, lots of them, on conference unrest. His school stands to be one that's considerably vulnerable, should the Big East's football arrangement collapse on itself. There isn't a better coach in place to speak -- and fight -- on behalf of his university than Pitino, who many in and outside of his industry listen to.
Pitino,
who first came out and spoke on the issue
two weeks ago,
put up today a post that's going to cause some more conversation
. The man's always been a reliable quote. At least someone his age (59) is willing to embrace the Internet and use it adequately.
The post, which unintentionally (or was that an intentional shot?)
misspells Jamie Dixon's first name
as "Jaime," makes good mention of how all non-football and men's basketball sports will struggle in the coming years, as conferences neglect reasonable geographical connotations in favor of money-chasing. And, yep, there's an irony to a coach in Louisville, effectively located in the Midwest, railing against geographical decisions. That lack of awareness extends itself even further when Pitino haphazardly suggests Air Force (located in Colorado Springs, Colo.) join the league in football.
Doesn't undo the point that volleyball, softball and men's soccer teams will feel a squeeze in areas outside of direct competition. The money's going to be there? Most university athletic departments operate in the red, you know.
In the wake of Dave Gavitt's wake and funeral, Pitino insists the Big East get back to the fundamentals Gavitt built the conference on. (Omitting the nature by which Gavitt did that, for the record. He was a brilliant businessman and is one of the 10 most influential men in the history of college basketball, but there are DNA strands connecting Gavitt's Big East construction in 1979 and what's happened in the past two years in conference realignment.) Foremost, he went after the narrow-minded visions of university presidents.
"When it comes to athletics, they should defer strongly to their conference commissioner and their athletic director,"
Pitino writes
.
He wants honest discussions with hopeful and willing and eager future members of the conference. Pitino also wants Temple to join the Big East as soon as possible. That notion isn't new, but Pitino's push gives it mainstream attention.
"They have a highly competitive football program with outstanding basketball tradition," Pitino writes. "They are a past BIG EAST member and an excellent school academically. And as all my friends say in Philadelphia, they are located in BIG EAST territory."
That they are, but I'm not too sure Villanova would be all that pleased with having Temple come back aboard, especially when Villanova would love to join the league in football. Overall, I'm glad Pitino's speaking, even if some of this is grandstanding and ultimately he has little-to-no say about what happens in the league. I completely agree with him re: presidents, but that power simply will not be acquiesced. Ever.
The only hope there is that most presidents have a very good relationship with conference commissioners and athletic directors; that movements made or not made will happen for reasons beyond the dough and promise of more. Even when coaches lack power, they still have the opportunity to speak up. More should follow Pitino and Jim Boeheim and Jim Calhoun's lead. They are the faces of the sport, even if the body's controlled by presidents pulling the strings.
Photo: US PRESSWIRE