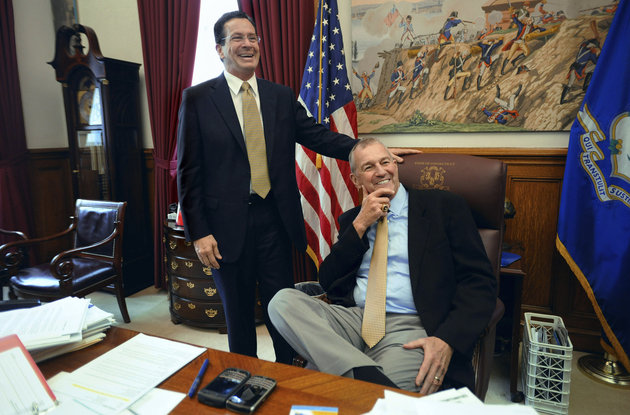 By Matt Norlander
Living in Connecticut, I can tell you the issue of UConn's perceived instability has been the dominant sports topic for the past two weeks. It's living and moving on the surface of mainstream discussion every day. And so much so that politics have gotten involved -- or been vested -- to a minor degree. Reporters recently asked state governor Dan Malloy his thoughts on UConn staying or going in the Big East, and whether the ACC would make a good fit.
Malloy was questioned because the governor's office has always had a tight relationship with the state schools, UConn chief among them. Malloy offered some perspective that wasn't new,
but interesting to hear nonetheless
.
In terms of Connecticut's prospects in the ACC, Malloy believes Notre Dame is what makes the move happen, no questions, asked, but anything short of that means Huskies fans are going to have to wait a while before finding out where the schools ultimately settles.
Malloy ... said he has spoken with UConn President Susan Herbst "a half dozen" times about the issue. Asked if he would "lobby" Herbst to join the ACC if Notre Dame joined, Malloy said, "I don't think you'd need to lobby President Herbst on that subject." He said that he has spoken with officials from other universities, but declined to detail what he called "private" conversations.

"I think there was an expectancy built up, initially, that this was going to be quickly resolved," Malloy said. "That's clearly not the case. The ACC has the first decision to make and that's whether they're going to stay at 14 teams or go to 16. I know that there's one school that they would like to get into the ACC that would guarantee them going to 16 teams and that's been speculated to be Notre Dame. I suspect that that's true." Malloy said he believes Notre Dame -- a traditional independent football power with a national following and its own TV deal with NBC that runs through 2015 -- is "not terribly likely" to join the ACC.

"So absent a Notre Dame is there a compelling reason to go to 16 teams immediately or to remain at the 14 they've enlarged to?" Malloy said. "Beyond that then you fall back to the Big East and the Big East has to rebuild itself to fill the loss of the two teams that left and has to worry about its ability to compete on the major sports of basketball and football in particular, as well as how we make that work for student athletes."
Malloy (above, left, with Jim Calhoun in the spring) probably is about as tuned into the discussions as anyone at UConn, since he's close with Herbst and the financial effects of Connecticut's primary university with the state are a big, big deal. Him bringing up Notre Dame is akin to a few flares tossed into the air, but the Irish simply won't be going to the ACC in football, it seems. And so the school will remain as a basketball member in the Big East. Without the ACC finding a good partner for UConn to join the league with, are the Huskies going to be forced to pay rent in the Big East for the long road?
Plenty of questions still linger. Everyone up here is asking them every day. Connecticut's willing to answer and let the world know, again and again, it wants into the ACC as soon as possible.
Photo: AP