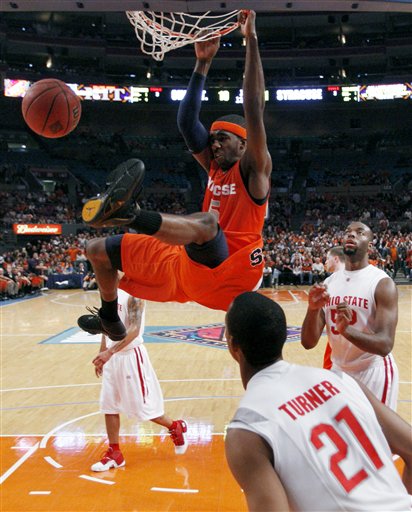 By Matt Norlander
When the Orange leave the Big East, they won't be leaving the region. Syracuse's chancellor, Nancy Cantor, said
the school very much plans on utilizing New York City as a second home
, perhaps even more prominently than the men's basketball team does currently. That facet of Syracuse's conference hop to the ACC was a critical part of the discussions with ACC commissioner John Swofford, according to the Syracuse
Post-Standard
.
The newspaper talked to Cantor and got her on record for the first time since her school was accepted into the ACC. She also offered up some information about the deal that contrasts with what we've heard previously: that Syracuse was working on this for a good, long while. Turns out, not really, at least it didn't get serious until 72 hours before news of the move leaked out.
In her first interview since the move, Cantor laid out the fast-paced chronology that led to the announcement Sept. 18 that Syracuse was leaving the athletic conference it helped found in 1979. The action started Tuesday, Sept. 13, when ACC officials voted to accept new members. The conference had planned to stay at 12 teams, but that week decided to expand because other conferences were moving in that direction, Swofford has told reporters. The next day, the ACC called Cantor to see if SU was interested in applying. She called Swofford back the next morning, Thursday, and had a lengthy conversation that included the New York City dimension that SU could offer, she said.
Syracuse's proximity to New York and the opportunity to play three or four games there -- outside of any possibility of the ACC tournament, should it even flirt with getting Madison Square Garden down the road -- was really what got this deal done. If Syracuse is located in Buffalo, meaning New York City trips are a little more logistically shaky and a little less attractive overall, then the Orange probably don't leave the Big East.
Cantor and Swofford had their conversation on the 13th, and less than 24 hours later, Syracuse's board of trustees had approved a move to the Atlantic Coast Conference. You can see why there's been plenty of hand-wringing over this swift decision. That's a really fast marriage to decide on. As for the Garden, yeah, it definitely makes sense to get Syracuse in there as frequently as possible; I don't think there's a diminished-returns factor. Orange hoops fans are extremely passionate and devoted to seeing the team as often as possible.
And if the Garden is impossible to book for a few games, remember, the brand-new Barclays Center in Brooklyn (opening next year) will also have plenty of opportunities. And it'll be a new venue, a new building for Syracuse to make its affiliation with.
Cantor said the other factor in leaving was the TV money. The Big East doesn't have a deal that extends beyond 2013. The ACC is set for more than a decade with its $1.86 contract with ESPN.
"Certainly, we had hoped it (the TV deal) would go through," she said. "Obviously, when you think about the stability of what was offered with the ACC, that was attractive to us." SU must pay a $5 million exit fee to leave the Big East. That penalty will be made up by the increased revenues in the ACC "in not too long a time," Cantor said. SU hasn't calculated how long, she said.
For nearly a decade Syracuse has somewhat foolishly and hopelessly marketed itself as "New York's College Team," a moniker that few in the fan base ever went out of their way to boast. Seven years ago or so, the Carrier Dome actually had a banner with this logo that ran alongside the Statue of Liberty. But there's no denying New York City -- and the cities and towns around it -- does house thousands of SU alums. The initiative to get more games in that area makes sense, and if the ACC is led into NYC much more frequently because of Syracuse's influence, this move will be as shrewd as anything the progressive Pac-12 has done.
Because, generally speaking, nothing in sports is more valuable than all New York City has to offer.
Photo: AP