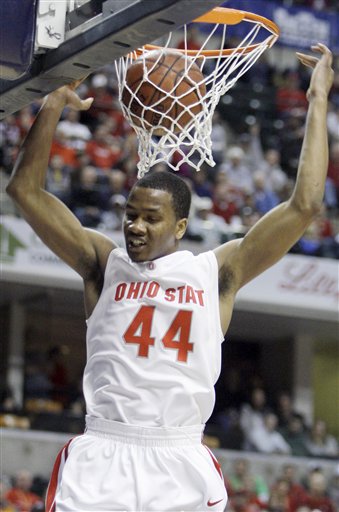 By Jeff Goodman
William Buford could become the all-time leading scorer in Ohio State history.
Wow.
That's mind-boggling, isn't it?
The smooth 6-foot-5 senior wing - who some feel hasn't lived up to his potential thus far in college - enters the season with 1,424 points and a 13.4 career average.
Dennis Hopson holds the Buckeyes mark with 2,096 career points (Jerry Lucas scored 1,990 and averaged 24.3 points in three years).
That means Buford needs 673 to break Hopson's mark.
Ohio State has 31 regular-season games on its slate this season.
Let's assume that the Buckeyes play four total between the Big Ten and NCAA tournament.
Buford would need to average 19.2 points per game.
That's certainly plausible.
Obviously, Buford needs to stay healthy, something he's done over the course of his three-year career. He's missed just one game and it came last season.
Buford has averaged 14.4 points each of the last two years and they'll be more scoring opportunities and more pressure on him to put the ball in the basket with David Lighty and Jon Diebler both gone.
Opposing defenses will also likely pack it in and double-team big man Jared Sullinger - which could result in Buford getting more than the dozen shot attempts he had a year ago.
William Buford as Ohio State's all-time leading scorer?
Don't rule it out.
Photo: AP