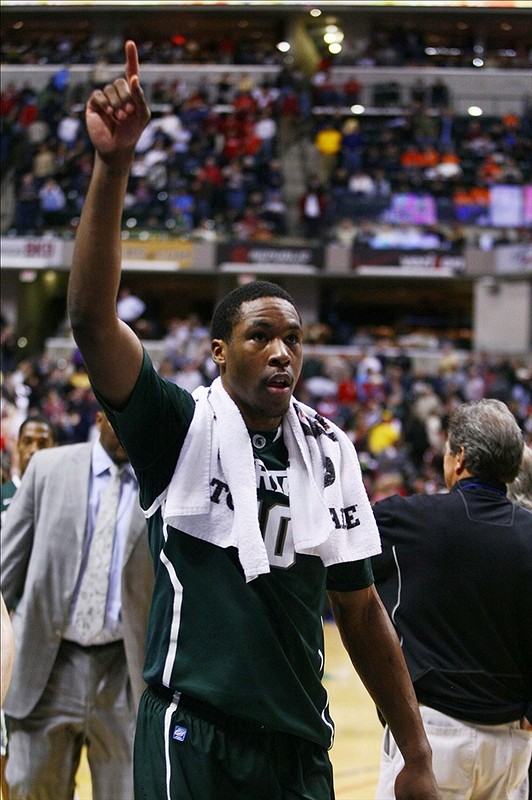 By Jeff Goodman
Delvon Roe cried in his 90-meeting meeting with Tom Izzo yesterday morning. Then he bawled when he informed his teammates in the locker room. Then came the news conference to let the local media know his Michigan State career was over.
He shed more tears.
If you're a college basketball fan - whether it be Izzo, a supposed-objective media member or even a diehard Michigan fan - you've got to feel for Roe.
He just couldn't do it again.
Roe was a shell of himself, ever since Dec. 6, 2007 - the day he messed up his knee and was told he'd need microfracture surgery.
"I just couldn't do it any more," Roe said. "I have a daughter now and I want to be able to play with her when I get older."
Roe has done it for the past three years, but this one was different. Usually, the there was some explosiveness at the outset of the season and the pain wasn't quite so bad.
But after a lingering ankle injury turned into the same old knee pain - which resulted having his right knee drained on Saturday - Roe couldn't imagine going through it again.
"It just wasn't fun anymore," he admitted.
Roe had contemplated the decision for much of the past month, but hadn't discussed it with anyone outside of his family and a couple of his closest teammates.
Then he texted Izzo on Thursday night and asked him if he could meet Friday morning.
That's when he delivered the news.
"He had no idea," Roe said. "We broke down and did a lot of crying."
Then Roe kept a scheduled dentist appointment before telling the entire team around 2:30.
"That was the toughest thing I've ever had to do," Roe said. "Most of the players cried with me."
Then Roe went out and did what has been the custom in his career: He watched practice from the sidelines alongside the team trainer.
"It was hard," he said. "A different kind of hard. But it was a spriited practice."
The news conference followed at 4:30 and then it was off to perform in a school play - which has been Roe's newest endeavor. Roe recently made his movie debut in the film AWOL. He didn't want to confirm that he had accepted the lead role of the soon-to-be-filmed movie "Gametime", but he didn't deny it, either.
"But that isn't why I gave us basketball. It had no bearing," Roe wanted to make clear. "It came down to where I knew I wasn't going to be a pro. The knees just weren't going to get better."
Roe said he has no regrets. He started for a pair of Final Four teams and played in the national title game.
Sure, he would have loved for the nation to see the "old" Delvon Roe, the one that I saw back in the summer that dominated each and every big man due to his athleticism and relentless pursuit of the ball.
But he's at peace with his decision now.
For his sake and for that of his two-month-old daughter, Destinie.
"A lot of people think it's a sad day," Roe said. "It is to an extent, but at the same time, I think my life is only beginning."
Photo: US PRESSWIRE