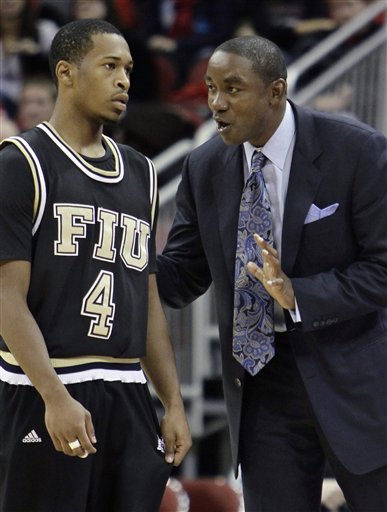 By Matt Norlander
Why, I never!
Isiah Thomas is hosting LeBron James, Dwayne Wade, Amar'e Stoudemire, Chris Paul, Kevin Durant and a horde of other All-Star players in an exhibition game? You'd almost convince yourself Thomas has a vested interest in NBA basketball. With the NBA lockout most likely pushing its way into the regular season --
and what a great thing that would be for college basketball
-- all these great players seem pretty bored. Dudes just wanna get on a court and game.
So Florida Internationl will host the "South Florida All-Star Classic" next Saturday, Oct. 8, at 7 p.m. The good, no-brainer aspect: the game's in the name of charity. Proceeds will go to Mary's Court Foundation, which the FIU press release states is "a foundation established in honor of Coach Thomas' mother, the late Mary Thomas."
Mary Thomas died in January of 2010 at the age of 87.
"This will be a great event for FIU and the South Florida community," Thomas said in a statement. "We are thrilled that some of the world's greatest basketball players will put on an entertaining show here at FIU. It's also fulfilling to know that this is being done for a good cause. I can't thank LeBron, Dwyane and Chris [Bosh] enough for helping put this together."
Tickets, which range from $50 to $100, are on sale Monday, and no doubt this event will draw a capacity crowd. It's effectively an all-star game in October.
Would this be happening if Thomas was not the coach? Doubt it. So there are some benefits that have come with him spearheading that program. Still, the conflict of interests Thomas has with college basketball and a widely speculated desire to return to the NBA are on full display with this charity game.
The fans and NBA players will enjoy this, of course. Pretty much everyone will. It's a great idea. But that doesn't mean Thomas, again, looks motivated in areas outside of college basketball.
Photo: AP